Photo: Earl Gardner
After several games of featuring the league's second worst defense and worst (statistical) goalkeeper, the Philadelphia Union put together a solid if imperfect shift against NYCFC. They gave up one goal following some brilliant play by NYCFC's attacking core but did well to limit the chances and make some last minute interventions when needed.

For this game's entry, I reverted back to collecting 100 percent of the stats manually, which is largely inspired by my mistrust for OPTA's data on interceptions, tackling, and duels won/lost.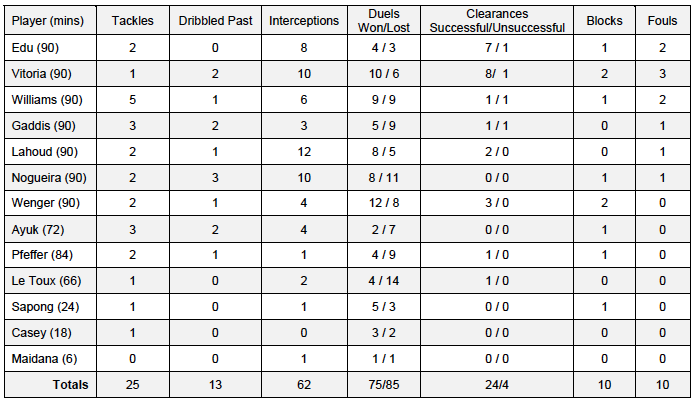 Sebastien Le Toux
When deployed as a center forward, Le Toux was encouraged to pester, press, and generally create havoc for the New York back line, and it was largely effective. His pressure, combined with the sound positioning of Vincent Nogueira and Michael Lahoud led to a great deal of NYCFC turnovers in their own third.
As a winger, Le Toux's pressure often comes at the expense of the team's defensive shape, so credit to Jim Curtin for putting him in the position to do what comes naturally to him. Obviously, he'll need to adjust his game and generally stay more disciplined when Fernando Aristeguieta makes his return.
Speaking of Aristeguieta, the Union really missed his presence as an outlet to all of the aimless passes that their backline is forced to play upfield. While he is effective in his pressure, Le Toux lacks the physical presence to get up and win balls in the air, which is evident in the amount of duels that he lost. It's no coincidence that the Union's possession picked up when CJ Sapong and Conor Casey came in to win those balls.
Midfield
Both Vincent Nogueira and Mike Lahoud put in great defensive shifts against NYCFC. The pairing did an excellent job in the passing lanes, with a combined 22 interceptions between the two (which also speaks to how many passes NYCFC attempted in their vastly superior possession time). For the most part, Nogueira played in a slightly advanced role while Lahoud sat deeper, with both shading over to the right side of the field to protect the back line against David Villa.
Eric Ayuk also put in a decent defensive shift and was quick to track back and help protect the right flank against Villa's advances. His play was highlighted by 4 interceptions and one key tackle against Jeb Brovsky in his own defensive box.
Backline
On the other side, Gaddis endured a physical struggle with Adam Nemec, who beat him out on several ground and aerial duels. Additionally, he was caught out a number of times by an overlap after he rushed upfield to pressure the ball. While Gaddis continues to show that he is one of the best 1v1 defenders in MLS, his positioning and communication must improve for the backline to have consistent success.
The center back combination of Maurice Edu and Steven Vitoria continued to impress after playing a strong game against KC (outside of set pieces of course). It's clear that Vitoria's play is drastically better with Edu at centerback, where he is allowed to play more conservatively and win balls both in the air and on the ground. Edu also managed a quietly impressive performance and showed good positional awareness to keep NYC's attackers out of the box. Their partnership may still be in its early stages, but it has the potential to be one of the best pairings in MLS.
Sheanon Williams had the most challenging matchup on the day, and for the most part, he did a solid job. He and Ayuk were clearly on the same page throughout the 90 minutes, and made generally made David Villa's and Jeb Brovsky's days as difficult as possible.
Unfortunately, his solid outing was disrupted by a couple of turnovers that led to NYC scoring chances and he lost Villa on NYCFC's lone goal of the day. There's every reason to expect that his play will continue to pick up as he regains match fitness.
There were a number of factors at play in NYCFC's lone goal, with Andrew Wenger as the main scapegoat.
Once Mix Diskerud plays his pass in to David Villa, Vitoria and Gaddis fail to step up and so allow Adam Nemec and Khiry Shelton the time and space to play in Josh Williams, who's overlap was left wide open by Wenger. While Wenger somehow recovered in time, his tackle deflected the ball off of John McCarthy and straight into the path of Villa. You can clearly see Edu pass off Villa to Williams as he goes in to protect the goal, and Williams can't quite get there in time. It's a fair bit of bad luck and poor marking in a goal that was definitely preventable.
Goalkeeping

He was far from perfect, but John McCarthy put in a solid stint in the Union goal. He was quick of his line to intercept crosses and through balls while doing well to either catch the ball or punch it clear of the box. He also managed three good saves against Villa's goal, one he can't really be faulted for.
That being said, his distribution was spotty at best. Whether that was nerves, wind, or poor back passes remains to be seen, but his passes out the back definitely need to improve if he wants to keep his new found starting job. He also had a scary moment off of Ned Grabavoy's 74th minute cross in which he played a ball straight into the danger zone outside the six. It was a difficult moment where he would have been better, but he was unpunished by Khiry Shelton's volley over the goal.