Photo: Gary Rohman, via Sporting Kansas City Facebook page
Up until stoppage time in Kansas City, it looked like Philadelphia Union were finally able to turn it around, thanks in large part to a defensive effort led by Maurice Edu.
Unfortunately, the Union allowed three more set piece goals to squander yet another late game lead. Given the nature of the late collapse, this week we'll take a look at two obvious points of weakness in the Union defense: set pieces and the play of Rais Mbolhi.
Set Pieces
The Union have conceded 9 goals through 5 games this season, giving them a goals against average of 1.80, which is second worst in the league. Of these 9 goals, 6 have come from set pieces, the other from a soft penalty call. For all of their imperfections, the Union have yet to allow an even strength goal from the run of play (a very unfulfilling stat of course), instead continuing the perennial struggle with the set piece defending.
Keep in mind that the following tables only show the statistics for free kicks, not corner kicks:
The Union have struggled mightily with physical matchups in their own box, winning less than 50 percent of first balls despite a consistent numerical advantage. What's even worse is that they then often lose their marks after the first ball is won or lost, which has lead to a great deal of second chance opportunities.
In Kansas City's second goal, for example (minute 3:05 of the highlights here). Fernando Aristeguieta does well to win the first ball and head it out of the box. But the clearances goes to the center of the field, where Roger Espinoza collects it to play the second ball in to Jalil Anibaba, who was completely unmarked and held onside by a trailing Maurice Edu.
In addition to their struggles on opposing free kicks, the Union have conceded 2 goals on 19 corner kicks, both of which came against Sporting KC.
While Mbolhi took most of the headlines for his poor play, this goal came primarily because Sebastien Le Toux and Brian Carroll failed to pick up Matt Besler at the near post (minute 3:36 of the highlights here). Le Toux was responsible for the zone around the post and chose to play Besler instead of reacting to the flight of the ball. Carroll was also caught a step behind, and I can't help but wonder why he was assigned to mark Besler in the first place.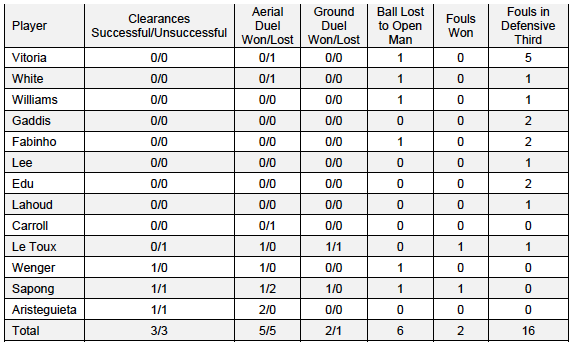 What's alarming throughout this trend is that there's little to no action coming from the likes of Steven Vitoria, Ethan White, and Maurice Edu, all of whom are the expected ball winners on set pieces.
This trio, along with the Union fullbacks, have also been prone to giving away fouls in bad areas. It was White's unnecessary foul against Chicago that led to Adailton's winner, and Gaddis and Williams who gifted RSL their scoring chances. Vitoria particularly stands out with his five fouls in the attacking third, many of which came intentionally after he was beaten off the dribble.
Rais Mbolhi
It's tough to put into words just how bad Rais Mbolhi's signing has been for the Union as of late. He's already received a great deal of criticism from the local and national press, so I'll show him some mercy.
Only joking.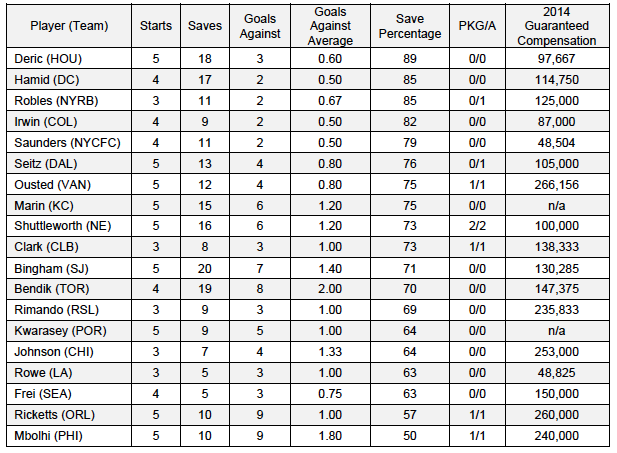 *Donovan Ricketts has 8 saves with 5 goals against (not 10 and 9) for a save percentage of 57, according to the MLS Statistics link here.
As you can see, Mbolhi's save percentage is currently dead last among goalkeepers with 3 or more starts, and his goals against average (1.80) is just behind the 2.00 posted by Joe Bendik.
The chart above fails to capture Mbolhi's struggles in the air, which have been heavily exposed over the course of 2015.
As for the salaries, the general consensus is that Mbolhi has signed a new deal making him one of the highest paid goalkeepers in the league. I could get into why an ownership group that generally skimps on spending shouldn't pay top dollar for a position of domestic strength, but it would be like beating a dead horse at this point.
CBS Philly's Kevin Kinkead reported on Tuesday that Mbolhi has been benched and will not be starting against NYCFC this weekend. Time will tell whether the starter will be Andre Blake (who recently began training after recovering from knee surgery in the offseason) or John McCarthy.
Both are better options considering Mbolhi's poor form.