Photo: BJ Nolek
Union fan BJ Nolek got in touch asking if he could share the story of how Philadelphia Union's Cristian Maidana touched him and his family. Here's his story.
As I struggled with how to start this letter, I came up with this; "Chaco, Chaco, Chaco!!"
For those of you that do not know or understand what I mean, let me introduce you to someone who exemplifies the word professional. His name is Cristian "Chaco" Maidana. He plays midfielder for the Philadelphia Union, and I hope us fans have the privilege of watching him run up and down the pitch at PPL Park for many years.
So why my interest?
My son, who is 9, wears No. 10, and plays for Aston Youth Soccer on the travel team. With Chaco's number also being 10, my son was instantly drawn to watching him. From his first goal against Sporting KC in May of this year, to all of his 11 assists, the chants of "Chaco, Chaco, Chaco" ring through my house, 24/7. Never mind the fact that my two sons fight over who is going to be Maidana in FIFA 15. And I thank him for that. You see, I grew up at a time when if you didn't play American football, you didn't play a real sport. I've played soccer for the last 35 years, and like many of you, was pushed to the side when I boasted about that. But now, soccer is bigger than it ever was, and now our generation can smile.
But I digress. Back to Cristian.
My son John experienced the time of his life when he was chosen to play at halftime during one of the Union games. That smile alone still is forever etched in my mind.
But then came a bigger smile.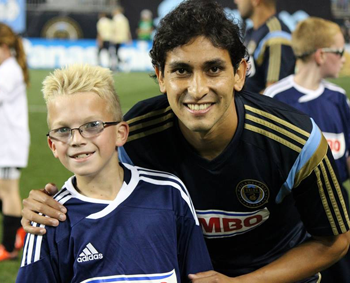 Chaco, along with Zac MacMath, and Fred, decided to play alongside the kids. I was like a little kid myself taking picture on the field. As play ended, I asked Chaco I could take a picture of him with my son. Without hesitation, he obliged. You can see by the photo to the left, there is no faking my sons smile.
This alone is enough to make him player of the year, but it didn't end here.
I sent the picture to Chaco's family, thanking him for taking the time out, and making one of my son's dreams come true. To my surprise, they answered back.
After multiple conversations, we had set up a day for my son to meet Chacho and his family.
Now, we have all heard stories about how athletes have something come up and have their agent send a sorry letter, so I was prepared. But the Maidana family did not disappoint. My whole family was able to meet them after a game.
But it gets better.
Chaco gave my son a Philadelphia Union jersey, and then signed it in front of him. He also took the time to sign my 6 year old's jersey, as well as the season pass of one of my son's friends. We were able to take all the pictures we wanted. Above all, Chaco showed me, a father of two boys, what a great person he is.
Philadelphia Union — keep him. Sign him to a long deal. This is what sells out your stadium every game. I will always tell people this story, and will smile every time I tell it.
Thank you Maidana, Thank you Chaco.
Your friend,
BJ Nolek
P.S. MVP! MVP! MVP!