It's time.
At 4 pm this afternoon, the 2014 FIFA World Cup kicks off when host nation Brazil faces Croatia in their quest for a sixth world title.
The excitement level here at PSP has reached a fever pitch. So we decided, what better way to dive into the tournament than with some friendly competition?
Thanks to our friends at the Philadelphia Union and in the local media we have been able to assemble three teams that are packed to the brim with soccer knowledge and are ready to stake their claim to the title of Paul the Octopus 2.0.
For each round of the World Cup, contestants from the Union Clairvoyants, PSP Prognosticators and Media Oracles will make their picks in hopes of winning both the team and individual titles and take home the as yet to be determined prizes (don't get too excited). A correct pick, regardless of the round, will be worth 1 point.
So, without further ado, allow me to introduce you to our contestants.
The Teams
Union Clairvoyants
Representing the Philadelphia Union, we are pleased to have Sheanon Williams (@sheanonwilliams), Antoine Hoppenot (@AntoineHoppenot) and Leo Fernandes (@Leo_Fernandes22) taking part in our competition, while Jimmy McLaughlin (@J_McLaughlinIII) does double duty, carrying the torch for both the Union and the Harrisburg City Islanders. Many thanks to Jimmy for submitting his 2014 City Islanders team photo for use in this feature. Joining them is Digital Media Manager, Kerith Gabriel (@sprtswtr).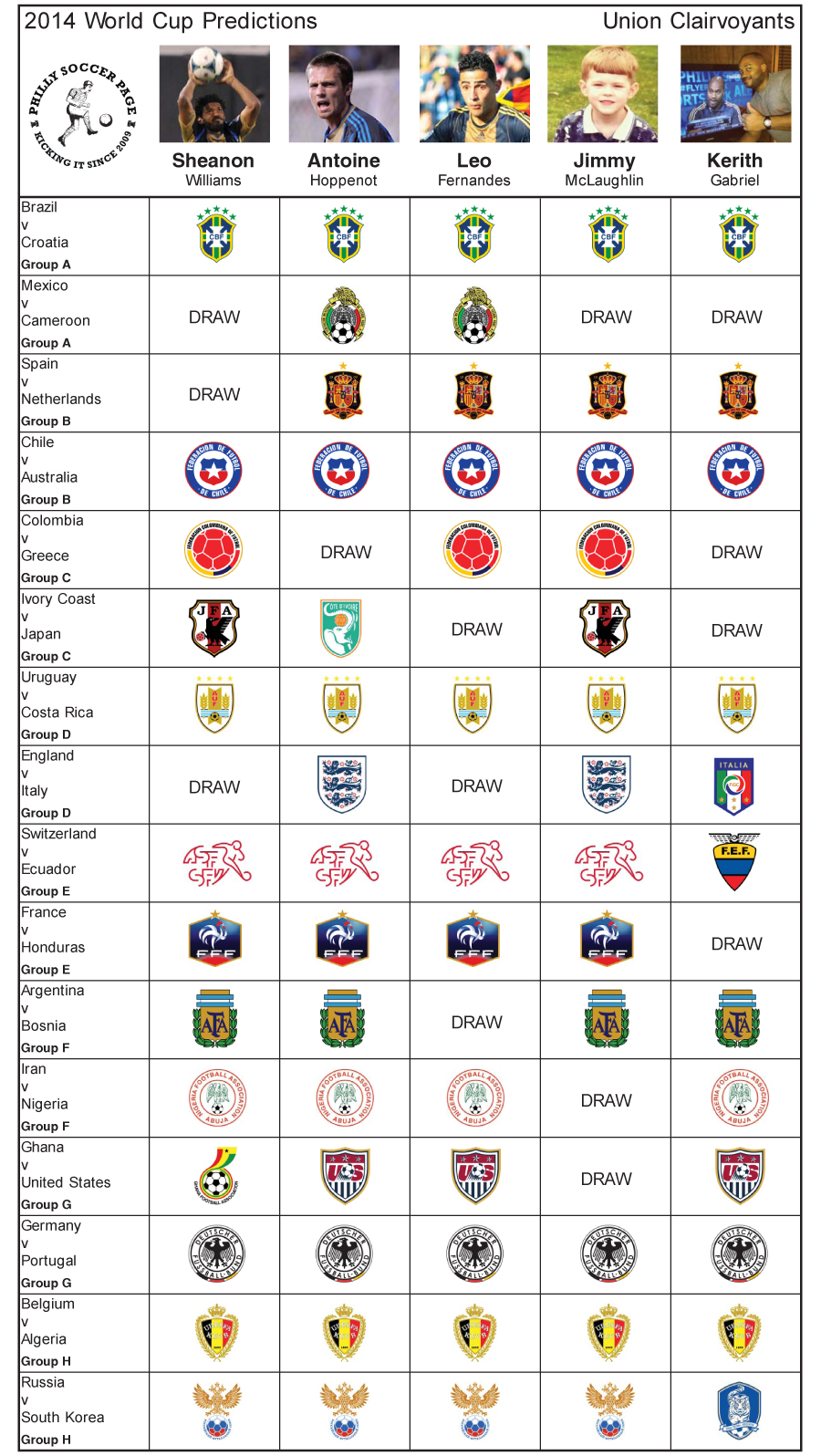 PSP Prognosticators
You know us. We go WAY back. Leading the PSP charge is managing editor, historian, tequila-aficionado, and all-around good guy, Ed Farnsworth (@FarnsworthPSP). Ed is joined by his fellow editing, Iron Throne-sitting, part-Brazilian by marriage, Dan Walsh. Making up the rest of the squad are PSP's resident tactical guru and reluctant Texan, Adam Cann (@PSPadam), women's soccer expert and second tier British soccer enthusiast, Mike Servedio (@MikeServedio) and me, Eli Pearlman-Storch (@PSP_Eli).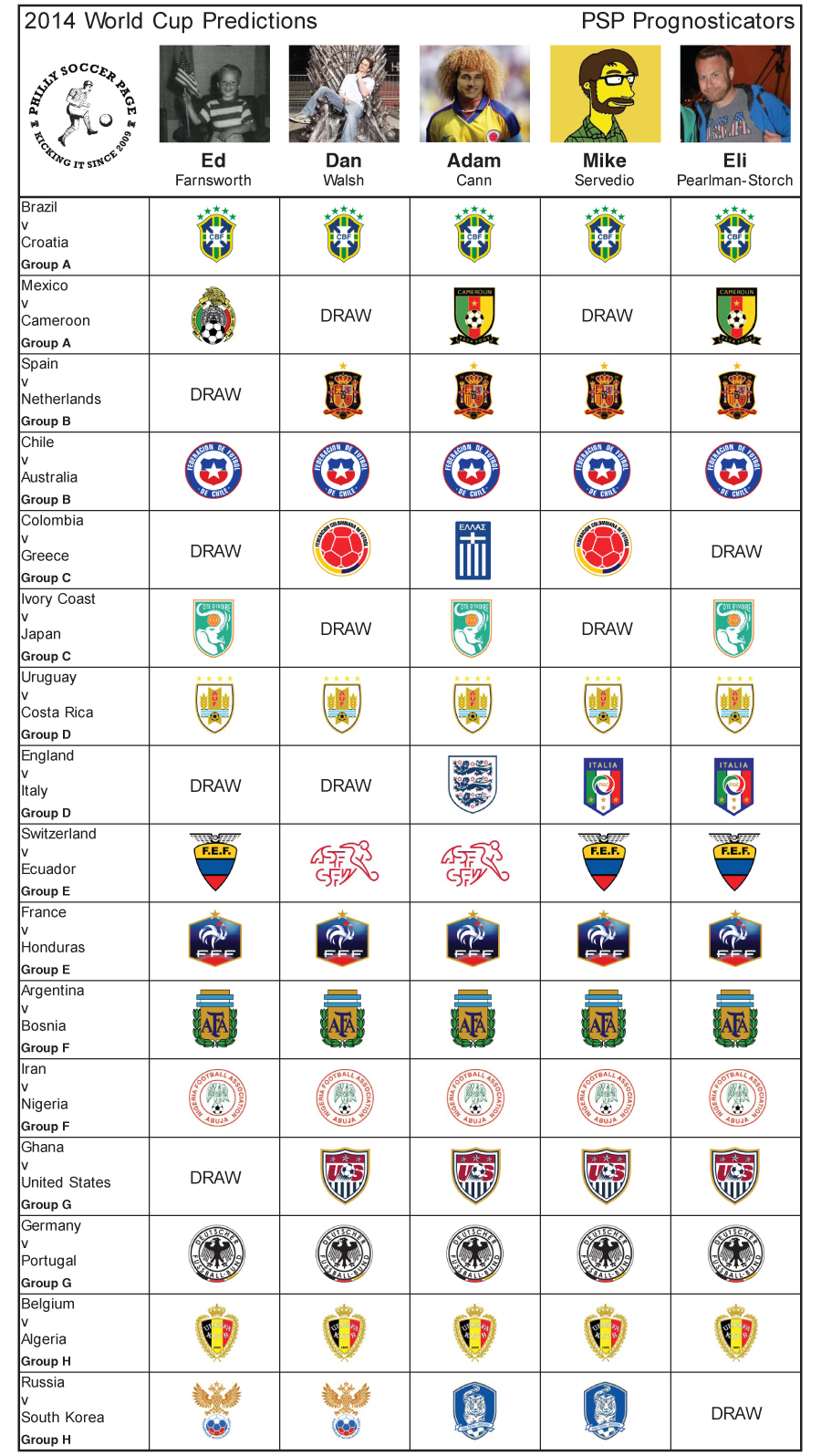 Media Oracles
For the Media Oracles, we have assembled a crack team that includes: Soccerly.com writer Kevin Kinkead (@KevinKCBS3), KYW Philly Soccer Show co-host Greg Orlandini (@GFO1025), Philly.com's Jonathan Tannenwald (@thegoalkeeper), mlssoccer.com's Dave Zeitlin (@DaveZeitlin) and the Delco Times' Matt De George (@sportsdoctormd).
Prediction Notes
Three teams received support from all 15 contestants: Brazil, Uruguay, Belgium.
Four other nations were within 1 vote of perfect scores. Greg Orlandini broke Germany and Chile's perfect record, picking Portugal to upset the Germans and Australia to play even with the Chileans. Kerith Gabriel was the only person to show the Catrachos any love against France, and Leo Fernandes backed Bosnia-Herzegovina to earn a draw against Argentina (a Brazilian picking against Argentina, hmm…).
The most contentious match of this first round comes in Group C with 6 votes going to Ivory Coast, 3 to Japan and 6 more selecting a share of the points.
England and Italy's Group D opener is the most likely to end in a draw, with 8 contestants expecting each country to claim a point.
In the USA – Ghana match, our contestants are definitely leaning towards the optimistic, patriotic vote, with 9 picking a victory for the Red, White and Blue.