This has been a very hard week for a lot of us in the Philadelphia Union, Sons of Ben, and Bearfight families. On Friday we said good bye to our brother Eric Shertz. It was one of the most intensely emotional days I've ever experienced.
The thing I think we all fell back on was the strength we found in each other as a group, as a family. We found our strength in our unity and love for one another. Even though Eric is not with us anymore, he's still able to bring us all closer.
While Friday was filled with tears, the wake at Stoney's British Pub the next day was filled with laughs, smiles and memories of our friend. Owner Mike Stone opened up with a prayer followed by some songs by a great bagpipe player. Drinks were shared as friends got to share stories celebrating the life of Eric Shertz.
When 4 pm rolled around all eyes were on the TV's as the Union were playing in Montreal. Everyone was blown away by the tribute the team gave to one of their original fans. Tributes from around the league started to appear as well. The support given to Eric's family from all over the American soccer community was simply mind blowing.
At the next home match, against DC United on May 10, the Sons of Ben are holding a free BYOB tailgate in Eric's honor. It is necessary to RSVP, which you can do by clicking here. It doesn't cost anything but making a reservation will allow enough food to be purchased for everyone who is coming. DC United supporters groups The Screaming Eagles and Barra Brava will be joining the festivities.
Donations to the Shertz family can still be made by clicking here.
Scarves up for a fallen brother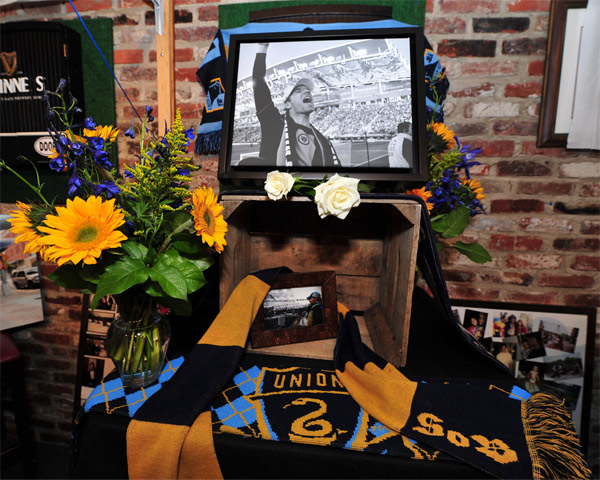 Tribute to a friend
Mike Stone leads a packed house in prayer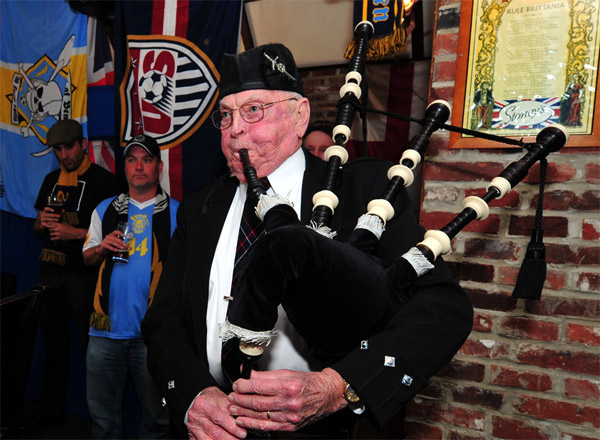 Jim Hunter piped a tune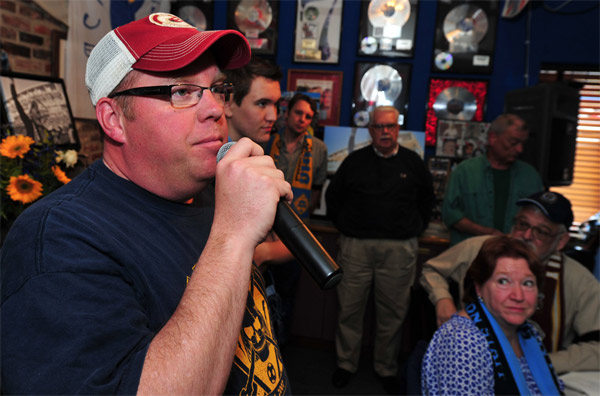 Bryan James shared his memories of Eric
Justin Lee shared a heartfelt song he in memory of Eric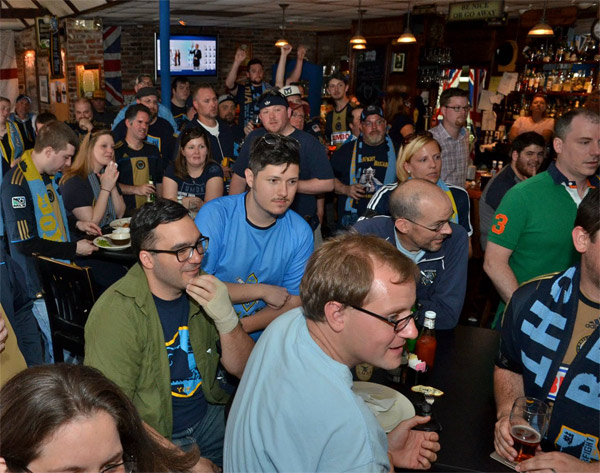 A packed house celebrated the life of Eric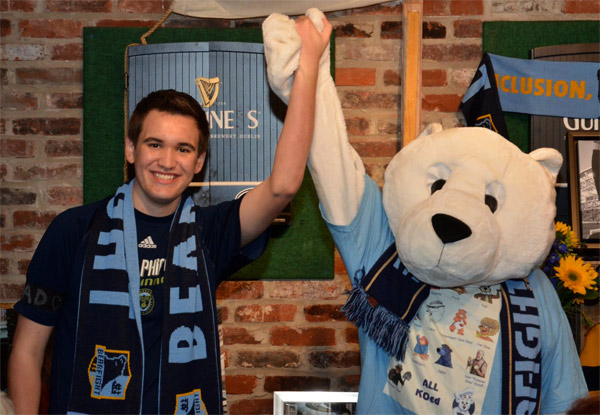 Punchy came out of hibernation to be with Eric's son Gabe and the rest of the family
Gabe Shertz brought down the house when he spoke about his father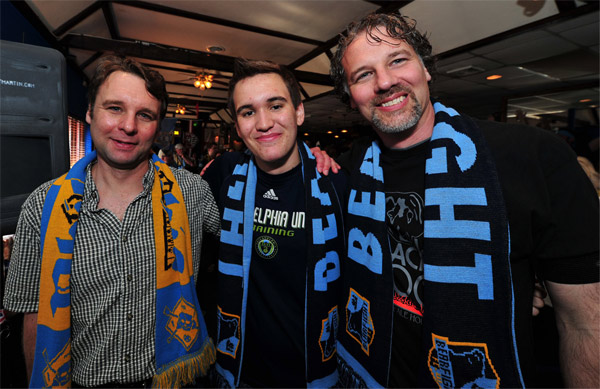 Gabe flanked by his uncles, Kevin (left) and Brian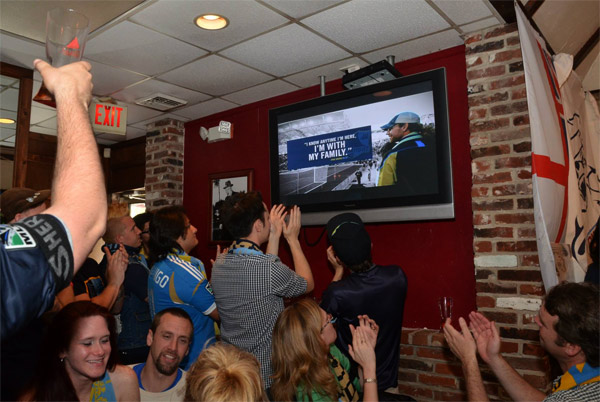 The broadcast of the Union game in Montreal paid tribute to Eric…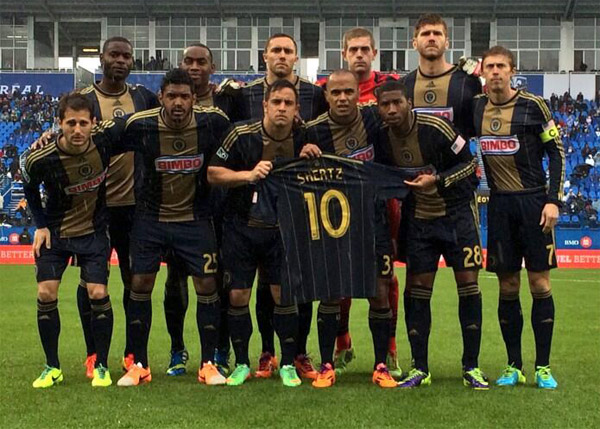 As did the Union players just before kickoff…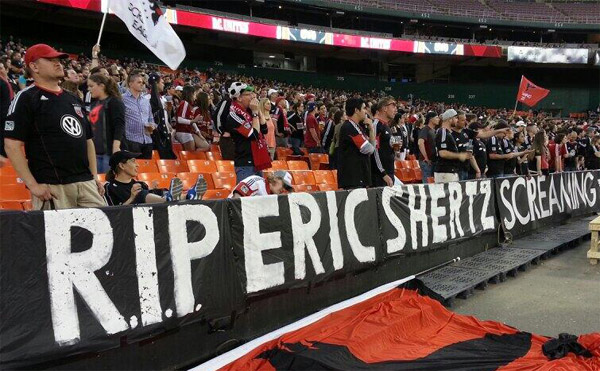 And DC United's Screaming Eagles…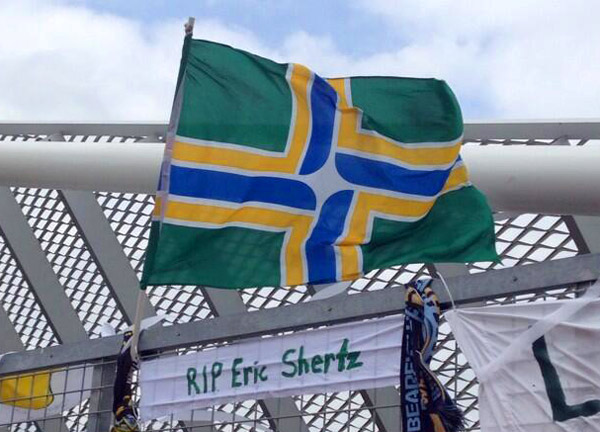 Portland Timbers' Lone Star Brigade…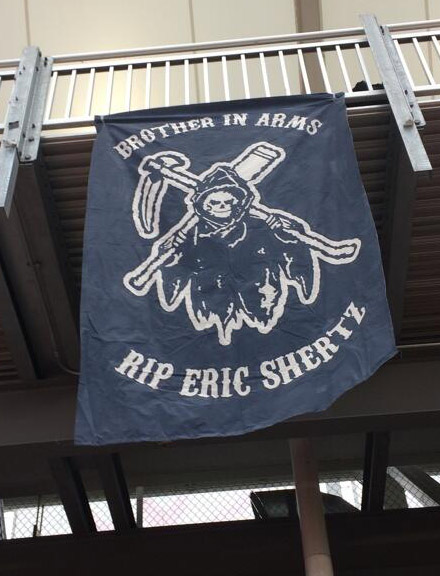 And Real Salt Lake's SLC Wrecking Crew
Thanks to Dan Gorman, Barbara Colligon, The Screaming Eagles, The Lone Star Brigade and the SLC Wrecking Crew for the photographs.