Photo: Paul Rudderow
So, big picture question.
What was the plan?
Watching the Union flounder and struggle yet again at Red Bull Arena, some glaring oddities were visible for all to see. For example, what was Maurice Edu's job in that match?
Not what should it have been, but what was he told. Edu has played the powerful, defensive foil to a more creative midfielder for years, with great effect. However on Wednesday night, he never committed to being the dominant ball-winner he can be. More concerning was that he didn't really get forward effectively either. More often than not, Edu could be found sitting just a bit too high for defense and a bit too deep to attack. When the Union had possession in the final third, he took little part, yet when New York broke, he was somehow too often out of position and was forced to call on his athleticism to get him back into the play.
Rotation situation
One possible cause for the lack of understanding on the part of the Union players was the endless, confusing player rotation. Cristian Maidana proved highly influential settling into the center of the pitch from his left wing perch. But soon after he began to look dangerous operating behind Andrew Wenger the Union entered into a choreographed shift. Maidana ended up on the right, Le Toux went alone up top (where he spent far too much time), Wenger cycled out to the left and Fernandes took his turn in the center of the park.
Organic it was not.
Nor was it terribly effective and neither Edu nor Nogueira seemed comfortable making heads nor tails of their attacking configuration for much of the match.
Further exacerbating the lack of team chemistry was the Union's sudden urge to turn their game North. Despite owning a tactical one-man overload in the center of midfield, the Union used their possession only to drive forward. Le Toux and Fernandes in particular were the most guilty of dropping off a simple pass before turning tail and sprinting up field, leaving an isolated teammate with few options.
Lack of support
This lack of patience left too many players without the outlets they needed to make smart, simple passes. And once the ball was turned over, the Red Bulls were off to the races. With direct runs from Fernandes, Le Toux and Wenger trapping them up field, space on the counter attack was plentiful and Edu, along with Aaron Wheeler and Amobi Okugo, were left trying to slow play as they waited for their teammates to recover.
What Brian Carroll may lack in distribution, he makes up for in being a solid anchor at the base of the Union attack. And while it is unclear whether Edu was asked to fill that role, or if the Union coaching staff deemed that position surplus to requirements in this match, that anchoring presence was certainly missed.
Ball, man, ball, man, ball, man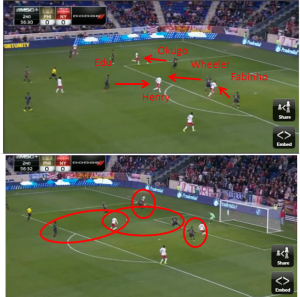 When did the Union turn into one giant Omar Gonzalez?
Seriously. It is becoming hard to watch as time and again the entire team takes turns shirking their defensive responsibilities in favor of being a spectator to a nice play from their opponent.
With Le Toux leaving his mark and allowing Roy Miller to run unchecked into the box, the Union defense needed to react quickly. When Okugo slid out to cover Miller, Wheeler and Fabinho (see top right) both were in line with their marks in Thierry Henry and Bradley Wright-Phillips, respectively. Yet, with both defenders focused on Miller's progress and not their runners, when Miller was ready to play the ball, he had two wide open targets (see bottom right). With his eyes on the ball, Wheeler overran the play without noticing Henry had held up his run, while Fabinho simply slowed to a stop, allowing Wright-Phillips into an arguably more dangerous position than Henry, should Miller have chosen a simple square pass across the face of goal.
Between New York's opener, as well as their winner (ball-watching by Fabinho again), and the goals that cost the Union dearly against Portland and RSL, it is clear that the problem is far more complicated than simple mistakes, made in the moment by an unfocused player.
Whether mistakes are coming from youth, inexperience, lack of chemistry or even lack of fitness, it has become clear that they will not stop naturally. How the coaching staff choose to address this growing area of concern will likely be one of the critical factors in the trajectory of the Union over the course of games before the World Cup break.
Player Ratings
Zac MacMath – 5
Outside of twice plucking the ball out of the back of his net, MacMath didn't have a lot to do. With both Henry and Sam left so shockingly open, he had no real chance of making a play on either New York goal.
Ray Gaddis – 5
Pushed the game up the right flank, limiting Eric Alexander's influence throughout. It would be hard to blame Gaddis for New York's late dominance up his flank as the lack of defensive cover out of the wingers too often left him to defend 1 v 2.
Amobi Okugo – 4
As de facto captain of the Union back line, Okugo has taken on a lot of responsibility in seeking out the opposition's best players. Recently, however, he has shown a tendency to back off and allow too much space to these attackers. While it may be an effort to slow play down to allow his teammates to recover, Di Vaio's curling equalizer and the space he conceded to Bradley Wright-Phillips are clear signs that Okugo needs to close down space faster.
Aaron Wheeler – 3
Continued to do the simple things well and struggle mightily with the rest of the game. Stepping up is the simple part, rising to head a long ball clear, or breaking up a pass. That was where Wheeler excelled. Yet when the play got close to him, the converted forward struggled with both his positioning and his awareness. If he is to continue in defense, he must better understand his assignments, locate the correct runners and improve with the ball at his feet.
Fabinho – 2
The only positive for Fabinho was that after conceding an extremely foolish early yellow card, New York failed to run at him with the consistency that would almost certainly have seen him sent off. It was no matter though, as the left back still missed far too many tackles, had little impact with the ball at feet, and became the most recent Union player to forget all defensive responsibilities so that he could have a good ball watch.
Maurice Edu – 3
Wearing the captain's armband for the first time, Edu looked uncertain of his responsibilities and struggled to link play together while seeing to his defensive responsibilities.
Vincent Nogueira – 6
If it was good and it was Union, Nogueira was somehow involved. Covered the usual large swath of land, yet even he grew frustrated with the lack of options and poor running in front of him.
Leo Fernandes – 3
Physically intimidated by the Red Bulls, Fernandes appeared to shrink from the fight. Offered very little of the supportive, link up play that has been the hallmark of his early season success.
Sebastien Le Toux – 2.5
We don't typically give half points in these ratings, but considering how poorly Le Toux struck his penalty, it seemed unjust to grant him an entire point's bump for Luis Robles' inability to fall on the ball. Outside of the goal, Le Toux was a peripheral figure in the match, running wildly all over the attacking half and shirking his defensive responsibilities, most glaringly when he failed to follow the Roy Miller run that led to Henry's opener.
Andrew Wenger – 4
Battled gamely with Olave and Sekagya but simply lacked the physical qualities to make an impact as he was pushed off the ball far too easily. On the rare occasions when he got looks at goal, his touch let him down disappointingly.
Chaco Maidana – 6
Opened brightly and confidently as he found space centrally and along the left flank before fading when he was made to move over to the right. Maidana's showing had the distinct feel of past performances from Michael Farfan. Full of promise, clever touches and attractive technique, but biting off just a bit too much with his passing and attempted through balls.
Substitutes
Conor Casey – 4
Unable to create anything against Sekagya and Olave, Casey was fortunate that Nogueira followed up and won the penalty after he dallied too long on the ball, nearly wasting his only chance of the match.
Michael Lahoud – 5
Clearly brought on to push Edu and Nogueira higher up the pitch, Lahoud showed his typically high motor, but was guilty of going for too much and committing a few wasteful turnovers.
Antoine Hoppenot – N/A
Geiger Counter
Ricardo Salazar – 5
It was a typically erratic performance from Salazar, who varies wildly from calling nothing for stretches of a match before watching it turn ugly and then having to call everything in an effort to calm escalating tensions. Got a one point bump for show flexibility in pulling back the card he planned to give to Gaddis after talking to his assistant and admitting that Gaddis had indeed been shoved into the RBNY player.
Preferred Starting XI for Saturday's match vs Houston Dynamo
4-2-3-1
MacMath; Williams, Okugo, Berry, Gaddis; Carroll, Edu, Nogueira; Wenger, Casey, Maidana