Photo: Courtesy of Messiah Athletics
The 2013 Homecoming Weekend at Messiah College was filled with familiar reunions and many other social gatherings. But one familiar sight was missing. Legendary coach and father of modern-day soccer at Messiah College Layton Shoemaker, who passed away suddenly in January 2013, was not among the 4,000 people who gathered to see the Messiah men's team play Stevenson University at Shoemaker Field.
Before the game, head coach Brad McCarty, a Messiah alumni who played under Shoemaker, and the team gathered with Shoemaker's family for a pre-game tribute and remembrance of Shoemaker's life and his legacy at Messiah College. During the ceremony, Coach McCarty presented the family with a commemorative plaque of the former coach. For the game, Messiah wore a special long sleeve third-kit with "LS" stitched on the sleeve. (For photos of the pre-game tribute, check out Messiah College Men's Soccer Facebook page.)
Messiah College Athletics and Messiah soccer would not be where it is today without Shoemaker's dedication, love of the game and players, and his influence on both the college and the athletic program. Shoemaker laid a strong foundation that has lead to nine Division III Men's Soccer National Championships and five Division III Women's Soccer National Championships.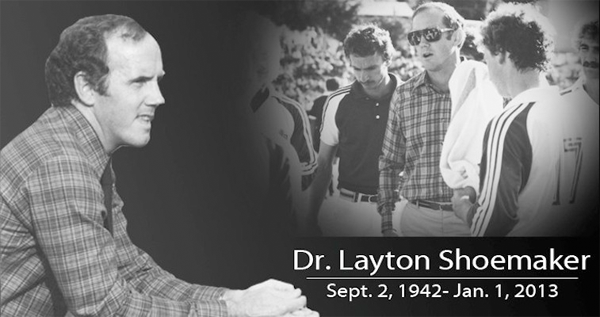 Shoemaker arrived at Messiah College in 1974 to become the school's fifth men's soccer head coach. In his 23 years at the helm, he directed the Falcons to a .751 winning percentage, with a 316-96-27 overall record. His team won the National Christian College Athletic Association (NCCAA) championships in 1978 and 1981. After leading the team's transition to the NCAA in 1981, Shoemaker's teams won eight NCAA tournament berths and NCAA Final Four appearances in both 1986 and 1988. In 1986 Shoemaker was honored as the NCAA Division III National Coach of the Year, the first such honor for a Messiah coach. Since then, Shoemaker's successors Dave Brandt and McCarty have won the award six times combined. Under Shoemaker's direction, six Messiah players gained All-American recognition, 42 players earned All-Region status, and 67 players received All-Conference honors.
While winning was important to Shoemaker, winning did not define the season or the program. He cared about developing his players on and off the field, which beautifully falls in-line with Messiah College Athletics current mission statement: "Pursuing athletic excellence, developing Christian character."
Current head coach Brad McCarty's thoughts echo Shoemaker's dedication to his players' character formation on and off the field.
"He was passionate about Messiah College, and Messiah College Athletics," said men's soccer head coach Brad McCarty. "He did a really good job of modeling his faith and demonstrating what it means to be a person of character. He was very principled in the way he lived his life, the way he coached, and how he led others."
Just as John Wooden laid the foundation for UCLA's basketball program, Shoemaker has become, as former head coach Dave Brandt described, the "grandfather of the program."  Messiah College professor Michael Zigarelli has penned a book detailing Messiah College Soccer programs called The Messiah Method: The Seven Disciplines of the Winningest Soccer Program in America.
"The foundation on a house is ultimately the part you don't see," said Messiah sweeper and long-time program supporter Dan Haines. "From where we all sit today, it may be a little harder to see what Layton did. But it's definitely there, underneath it all. If Layton laid the foundation and Dave built the house, then Brad is building an addition onto the house—and it's a significant addition."
As the years go on and Messiah men's soccer continues to strive for deep NCAA tournament runs and national championships, Shoemaker's legacy lives on through the current players, coaches, and alumni.