Photo: Paul Rudderow
The Philadelphia Union have a scoring problem. Jack McInerney, once a Golden Boot candidate, hasn't tallied since June 1 when he rescued a point with a stoppage time goal at home against Toronto. Conor Casey, who for a time was picking up the slack for McInerney, hasn't scored since his brace in the 2-0 win over DC United on August 10. Since then, the Union are winless in five games with their only goal coming from a Danny Cruz strike in the 5-1 loss to New England on Aug. 25.
That the Union are desperate for goals is clear. You don't have to be a stat nerd to see that an absence of quality play through the middle has seen the Union resort to dumping an increasing number of balls into the box from the wings. The problem, of course, is that this is obvious to you and me, the casual observers. So you can bet it's just as obvious to the Union's opponents.
A glance at the match stats appears to confirm that if the Union are willing to go wide, other teams will let them.* Playing conservatively on the road against New York, the Union put in only 7 open play crosses. Being trounced by New England, the Union managed 12. Back at home against a Montreal team content to absorb pressure, the Union swung in 21 open play crosses. On the road in the loss to San Jose, the number rose to 27. In the loss to Houston, it was 29. Combined, that is 77 open play crosses in the last 3 games alone, 17 of which found a Union player; a success rate of 22 percent.
Current results aside, lots of crosses are plainly no guarantee of success. Of the 11 games this season in which the Union have 20 or more open play crosses, their record is 3-5-3. Those aren't stellar results, and they suggest that big numbers in the open play crosses column may come more often from a desperate effort to equalize rather than from the execution of a calmly conceived and balanced game plan.
Previously successful

Casey's second goal against DC was the last scored by the Union from an open play cross, bringing the total number of goals scored off of crosses to 11 on the season.† This is a marked improvement from last season at this time when they had scored a mere 7 goals from crosses. According to the official match statistics, the 2013 Union have delivered 408 open play crosses to score those 11 goals over 24 games, a ratio of one goal per 37.1 open play crosses, and an average of 17 crosses per game.
In the five games since the win over DC, the Union have sent in a further 96 open play crosses, an average of 19.2 per game over that stretch. Put another way, those five games account for 19 percent of the Union's season total of open play crosses over 29 games.
Meanwhile, the goal-to-open play cross ratio has risen considerably to one goal per 45.8 open play crosses.
Where come the crosses?
Desperation aside, an obvious explanation for the increase in crosses resides in the arrival of Fabinho, who is providing a quantity and quality of service from the left that was previously absent from the Union's arsenal. The Brazilian has booted in 57 open play crosses in his ten appearances with the club, 35 of which have come since the second Casey goal against DC, which was also the second that Fabinho assisted. (Fabinho's first assist was another Casey goal in his debut on July 12 against Chivas USA.) In all, 12 of Fabinho's 57 open play crosses have been successful, or a little less than 21 percent.
That still leaves 65 open play crosses since that Casey goal from an open play cross against DC.‡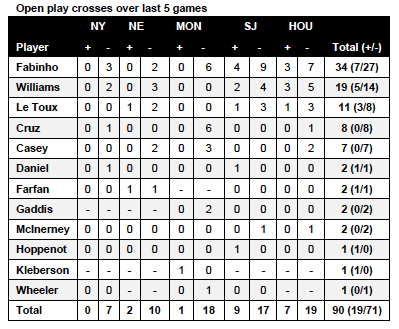 Those remaining open play crosses are sprinkled among eleven players, with Conor Casey, Danny Cruz, Sebastien Le Toux, and Sheanon Williams accounting for bulk of the total with 39. Of that 39, 9 have been successful with Williams recording 5 and Le Toux 4. Since the Casey goal against DC, winger Cruz has delivered 8 open play crosses, 1 more than center forward Casey. Of those, 6 came against Montreal, none of which found a Union player. And while he scored a lovely goal against New England, in that game and against San Jose, Cruz delivered no open play crosses. Playing center back against San Jose, Williams delivered 6, 2 of which were successful.
Before the current winless streak, the Union had been enjoying real success from open play crosses. Lately, it seems as if the cross is the Union's prime idea for breaking out of their offensive rut.
Unfortunately, whether due to adjusting to the new service from Fabinho's wing, opponents being better prepared for what appears to be an increasingly one-dimensional Union attack, bad finishing, or plain old bad luck, it's an idea that, so far, doesn't seem to be working.
——
*The number of open play crosses in the official match stats differs from the total in the Opta powered Chalkboards, which includes corners and free kicks in the totals for crosses. Discrepancies remain even after going through each player's numbers for each game and subtracting corners and free kicks from the totals. For example, the match stats have the Union with 21 open play crosses against Montreal while the Chalkboard has them with 19. For the San Jose game it is 27 in the match stats and 26 in the Chalkboard. For Houston it is 29 in the match stats and 26 in the Chalkboard.
†The breakdown of the Union's 37 goals in 2013: 16 from open play, 11 from crosses, 5 from corners, 2 from rebounds, 3 from free kick (indirect).
‡The Union delivered 4 more open play crosses in the game against DC after Fabinho's assist: one each from Fabinho, Farfan, and McInerney, all of which were successful, and one unsuccessful from Daniel.