US
The US defeated Honduras 3-1 to advance to Sunday's Gold Cup final (4 pm, FOX, Univision) where they will face Panama, who defeated Mexico, 2-1.
Jurgen Klinsmann said, "We are just really happy with how things are going. The first 30 minutes was brilliant football. Brilliant."
The absolutely on fire Landon Donovan scored two more goals to bring his tournament tally to 5. Donovan said after the game, "It's the most relaxed I've felt. I feel good, and I'm really enjoying it."
Klinsmann said of Donovan, "We are all very proud that he is proving a point. With every game he wants to prove that, to show that, not only on the field, but off the field, too, the way is has re-integrated himself into the group. In our conversations I have told him, "Your benchmark is the best Landon Donovan ever." And that I am not taking anything less than that. I think he is trying to catch up with that. So, give him more games more time. Obviously every game helps him."
Three minutes before the end of regulation, the referee saw fit to eject Klinsmann after he indicated his displeasure at another of a long series of uncalled fouls. The question now is whether Klinsmann will have to sit in the stands for the final.
Klinsmann said, "It was just a reaction out of frustration because fouls had added up throughout the last half an hour…I just kind of overboiled it. Obviously, you shouldn't then throw the ball or hit it on the ground. I apologize for that reaction, but it was not meant against the referee, against nobody. It was just frustration because you feel the health of your player [is in jeopardy] in that moment. I apologize for that."
CONCACAF's disciplinary committee will announce its decision on whether Klinsmann will be allowed to be on the sidelines for Sunday's final by Friday.
At Goal.com, Kyle McCarthy writes, "Klinsmann correctly identified the Honduran weakness with his team selection and watched his players feast on that soft core time and time again. The entire display oozed confidence and reinforced the now pervasive notion that the United States will enter the final as the favorite."
Match reports and recaps from PSP, US Soccer, MLSsoccer.com, Fox Soccer, ASN, ProSoccerTalk, Soccer America, Goal.com, SI, SBI, LA Times, and The AP.
Player ratings from  MLSsoccer.com, ASN, ESPN, and Goal.com.
Philadelphia Union
In Wednesday's weekly press conference, John Hackworth admitted that being without Conor Casey, suspended because of yellow card accumulation, presents some challenges. "It gives us some options tactically to try to figure out how we're going to match up against Vancouver. Losing Conor is going to be a tough one, but it might be an opportunity for us to play a little differently and get some other guys on the field."
Is Hackworth concerned that McInerney hasn't scored for some time? "When you're a goalscorer in this sport, you're going to go through times where you're hot and you're going to go through times when you're not getting (goals), and that's just normal," Hackworth said. "(McInerney) may have not gotten on the score sheet last week, but he had a really good second half, and he did a lot of work for us that opened up a lot of opportunities for other guys. He did a lot of the work, and as long as Jack does the work like that, then our coaching staff has no problem with it
Kerith Gabriel looks back to the first time the Union played Vancouver, the home opener 1-0 win in 2011.
Look for PSP's quick reference on the Union's past history with Vancouver later this morning. In the meanwhile, Union Dues has a preview.
Local
A week ago, with leading scorer Sainey Touray injured and the team losing four of its five last games ahead of their two-game Florida roadtrip, Harrisburg City Islanders forward Lucky Mkosana, who hadn't tallied since April, said it was time for the team to step it up. Since then, Mkosana has scored five times in the last three games, including a hat trick in Wednesday evening's 5-1 win over Dayton Dutch Lions.
Also scoring was Jimmy McLaughlin for his second goal in three games. His goal was assisted by fellow Union loanee Aaron Wheeler.
Match reports from USL PRO, Harrisburg City Islanders, PennLive, and The Sentinel.
With the win, Harrisburg is solidly in third place, five points behind second place Orlando and seven points back from top of  the table Richmond with five games left in the regular season.
Derek Meluzio looks back over Harrisburg's recently announced tenth anniversary All-Decade team and remembers the impact each player made on the club.
The Ocean City Nor'easters have released information about this weekend's USL PDL Eastern Conference playoffs. The Mid-Atlantic Division champs are hosting the playoffs with the semifinals taking place at Tennessee Avenue Complex, including Reading United's game against Ottawa Fury at 2 pm and Ocean City versus Carolina Dynamo at 5 pm. Sunday's final will kickoff at 7 pm at the Nor'easters home field, Carey Stadium.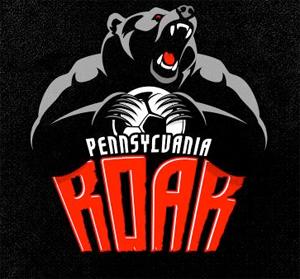 Reading will be the home of a new professional soccer team. On Wednesday it was announced that Reading will be the home of a new professional soccer team, Pennsylvania Roar of the USL's Major Indoor Soccer League. Reading Eagle reports that the team is owned by Glen and Dawn Goldstein, who are co-owners of the league's other newest expansion team, St. Louis Ambush. Further details about the club are expected to be announced a a press conference on Tuesday, July 30th at the Sovereign Center, where the team will play it's home games.
Reading is now home to three soccer teams, NPSL's FC Reading Revolution, PDL's Reading United, and Pennsylvania Roar. The Reading Eagle report suggests that Reading Revolution and Reading United were caught "off-guard" by the announcement.
Among the 44 players called up for the U-15 Boys' National Team that will be participating in the Copa de Mexico de Naciones beginning on Aug. 7- Aug. 19 in Mexico City are five local players. They include Kevin Silva (GK; PDA; Bethlehem, Pa.), Daniel Barbir (D; Philadelphia Union Academy; Allentown, Pa.), Tommy McCabe (D; PDA; South Orange, N.J.), Matthew Olosunde (D; New York Red Bulls Academy; Trenton, N.J.), and Christian Pulisic (F; PA Classics; Hershey, Pa.),
Over the next two weekends, the New Jersey Youth Soccer Olympic Development Program will be hosting ten youth soccer tryout sessions for boys and girls at The College of New Jersey.
MLS
The Washington Post reports, "D.C. United executives and District officials have reached a preliminary $300 million deal to build a 20,000-seat stadium for the team on Buzzard Point in Southwest Washington." According to Washington Post, "the District and United would split the costs for the project, with the city providing about $150 million to assemble land and prepare the site and the team spending a similar amount building the stadium," which is reportedly set at a capacity of 20,000-25,000. The report warns that "the plan hinges on a series of proposed land swaps and development projects across the city that could lead to political and logistical land mines."
DCist says United recently put in their best performance of the season—in a tire commercial.
Chivas USA released a statement in response to the HBO Real Sports expose on team's hiring practices that, in addition to a quote from HG Wells, said, "[W]e are disappointed by the intent of some individuals who have chosen to use our diversity to define our club as a racist and discriminatory environment by reporting an incomplete and one-sided story in order to damage the image of Chivas USA and the hard working individuals who are part of our community."
More reaction from LA Times, LA Observed, ProSoccerTalk, and SBI.
A new soccer stadium has been proposed in Detroit by the Toronto-based owners of the Pontiac Silverdome with the aim of attracting an MLS franchise. The plan also calls for a mall, residential space and office towers.
MLS director of corporate communications Sean Dennison said, "We do not have a specific plan for future expansion. MLS is aware of recent community interest in securing a future MLS expansion club for Detroit. This serves as yet another strong indicator of the league's continued growth and overall fan interest in our sport. Detroit has always had strong support for soccer at all levels, and we will certainly monitor their plans to build a soccer stadium."
Here's Kansas City Business Journal on how "Sporting Kansas City transformed soccer in the heartland."
Scotland international Kenny Miller has signed a six-month contract extension with Vancouver Whitecaps.
New York have signed Bradley Wright-Phillips, younger brother of former England international Shaun Wright-Phillips.
In England, New York Cosmos lost 2-1 to English third division side Leyton Orient.
NWSL
FC Kansas City, now unbeaten in eight games, moved into first place with a 3-0 win over the visiting Boston Breakers on Wednesday night.
Elsewhere
German football news site kicker reports that a FIFA source says that the organization is planning on holding the 2022 World Cup in November.
Former German Football Association chief and current FIFA executive committee member Theo Zwanziger says of the decision to hold the 2022 World Cup in Qatar, "It was a blatant mistake. If the decision was really a mistake it should be lifted and should not become an even bigger burden for those who are not involved by changing it to the winter.