Photo: Barb Colligon
With 17 games done and seventeen to go, it's midseason ratings time.
The midseason ratings provided by PSP writers have been averaged out to provide an overall rating for each player. The overall player ratings have then been averaged out to provide an overall rating by position, which have in turn been averaged out to provide an overall team rating. See below for a legend to the accompanying stat charts.
Players with under 90 minutes of game time have not been rated, which means only 15 players have ratings. 5 Union players on the roster have 18 or fewer minutes while 8 have 0 minutes due to being on loan, non-selection, or unavailability because the summer transfer window has not yet opened. Additionally, two players with more than 90 minutes who started the season with the club have since been traded.
As always, we look forward to your comments.
Philadelphia Union midseason overall rating: By player: 5.68/By position: 5.61

Union goalkeepers midseason overall rating: 4.5

Dan Walsh: 4. MacMath's howlers may outnumber his big plays this season. His confidence has taken a hit. Remember how well he played in 2011 after watching Faryd Mondragon all year? He needs to sit, watch and learn from a capable veteran mentor.
Ed Farnsworth: 4. When a goalkeeper's indecisiveness is visible from the stands, how visible must it be to opponents who make their living looking for and creating the moment to pounce? Carrying but two keepers on the roster for the first half of the season was a risky move that has cost the team points. Hopefully the long view pays off sooner than later.

Eli Pearlman-Storch: 3. Two and half years into his professional career, MacMath continues to make the mental and physical mistakes of a rookie. Much of the blame for his slow development must be shouldered by the coaching staff who have not only failed to provide him with a full time coach, but have also left him without a veteran, proven backup to offer support, advice and a safety net. Regardless of the reasons, MacMath is far to error-prone to be considered an automatic starter and if Oka Nikolov arrives fit and prepared, he should be given a fair shot to win the starting job.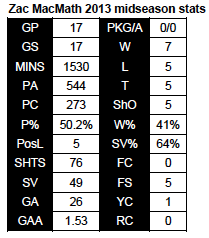 Adam Cann: 4. The simplest way to put it is that MacMath has cost the Union points. Unfortunately, stopping shots is only a fraction of what a professional goalie is hired to do. Organize a defense, put fear into the heart of anybody that dare tread in his box, and create a feeling of calm on which a team can thrive are also important parts of the job description. MacMath is a long road or a huge leap away from being ready for prime time.
Mike Servedio: 4. Routinely fails to come up with the big saves to bail out his team. Would like to see him take better command of the backline and his box in his third year in the league.

Greg Orlandini: 5. Has either leveled off or regressed from last year. His decision-making is suspect, as are his organizational skills. Did steal three points in Chicago though. Big question is, how will he react to the addition of a veteran keeper?

Earl Reed: 4.5. His shot-stopping excellence is held back by a difficulty grasping other important aspects of the position. Saturday's howler allowing Dallas' equalizer joins the Eddie Johnson goal as memorable disasters haunting his first half.
Jeremy Lane: 6. Zac's been quite good at times, but still suffers from the insecurities and growing pains of all young keepers. An experienced mentor like Nikolov will do him good.
Sean Doyle: 6. Young goalkeepers make errors and MacMath is no different than his peers, Sean Johnson and Bill Hamid. The gaffes can be maddening but despite what many think, MacMath has improved this season. With five clean sheets, Zac is more than halfway to his total of eight last season. Still, there's work to do. The 21 year old needs to be more assertive in his penalty area and must cut down on the mistakes. With Nikolov on the roster, MacMath has someone to push him and mentor him while knowing he's the Union's number one for now and the future.
Chris Konopka, Oka Nikolov: 0 minutes
Union defenders midseason overall rating: 6.07

Dan: 5. Lacks a left foot, which unbalances the Union attack, and is poor on set piece defense. Still, he's a gamer who could start and flourish at right back for many teams.
Ed: 5. Fantastic speed can save your bacon only so many times. While serviceable in the position, if the coaching staff truly thought he was a lasting solution to the left back question that has existed since Nowak traded Jordan Harvey, they were mistaken.

Eli: 4. While he continues to show the shut down man-marking skills that made him an instant success in 2012, mental mistakes and poor positioning continue to plague Gaddis' performances. Combine those issues with a complete lack of a left foot, and it is clear that Gaddis is not the long term solution at left back.

Adam: 4. It's not his fault he is playing out of position, but that doesn't take away from how mediocre he has been on the left. For a guy with speed, fearlessness, and a willingness to mix it up, Gaddis shows only the pace on the left. It doesn't help that Danny Cruz fails at chemistry worse than a jock in a high school TV show, but Gaddis has been absent from the offense and average on defense. With Toronto rolling out Ryan Richter at right back, there is no doubt that there is a place for Gaddis in MLS. But if it's on the left, someone has an offseason of hard work ahead of them.
Mike: 5. Still a work in progress at left back. Needs to develop his left foot more. Is forced into using his speed to bail out his defending too often. Bad habit of having his mistakes lead directly to opposition goals.

Greg: 5. Ray gives it his all every match. If he was playing on the right side, he would be maturing into a fine player. Solid in defense, gives little going forward because of lack of a left foot.
Earl: 5. It's been trial by fire for Gaddis, being thrown on his unnatural flank. Has done reasonably well, but his growing pains have not helped the Union's difficulty in playing on the left.
Jeremy: 5. Gaddis's struggles on the left side of the field are hardly all his own fault, and he has improved greatly. Still, if he hopes to keep his place ahead of new signing (and natural left back) Fabio Alves, he'll need to improve even further.
Sean: 5. I want this number to be higher, but Ray is a work in progress at left back. 

Dan: 7. Dangerous on set pieces, covers a ton of ground, excellent passer. The Union's Geoff Cameron, perhaps with a higher talent ceiling.
Ed: 6.5. In 2012 he was a revelation. In 2013 he continues to grow into his position—his newfound abilities as an aerial threat are very impressive and demonstrate a desire to continually improve his game that is truly admirable—but has also shown at times how far he still need to grow. I still wish I was watching him develop into the central midfielder many believe he is meant to be.

Eli: 7. Went out in the offseason and developed an impressive aerial game. This new found prowess not only benefits him defensively, but also makes him a menace in front of goal, where his three tallies have him third on the Union's scoring chart. His distribution out of the back remains as silky and smart as ever, but his occasional mental lapse back to zone marking, rather than man on man, suggests that his best position probably still is in midfield.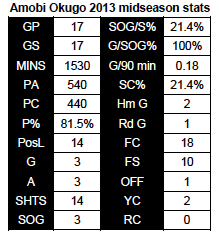 Adam: 6. Let's get the praise out of the way: What a talent. Playing in the back has forced Okugo to tame his more aggressive tendencies and develop his positional sense. That sense has a ways to go, but it has improved markedly already (see the two New York games). He can play out of the back and he is dangerous in the air. Okugo is one level of consistency away from Europe. All that said, he has been up and down defensively. Using athleticism to make up for positional errors, particularly in transition, is playing chicken with fate. Let's see Okugo take a really good striker out of the game before we carry him through the streets.
Mike: 6.5. Would still like to see him get a shot in the midfield, but is developing into a very reliable MLS center back. Is clearly still learning the ins and outs of the position on the pro level. Developing into a much needed aerial presence on set pieces.

Greg: 8. HE SCORES WHEN HE WANTS!! Not quite, but great to see him add finishing to his arsenal. May be the best athlete on the team.
Earl: 7. Earned central defense role over Baky Soumare with largely solid play. Okugo has also tossed in two goals on the set piece as well as 3 assists to help add to his contributions to the club. Still most fans yearn for his return to midfield.
Jeremy: 7. A revelation at center back, Okugo has been one of the real bright spots on the Union this year. He still has much to, but he has all the tools to be a star MLS defender, if not more.
Sean: 6. Amobi's maturation as a center back has been something to watch. As with any stand-out young player, you'll have struggles and  success. The good moments make you forget Okugo has played just over one season's worth of games as a professional center back.

Dan: 6. Solid, steady, unspectacular. Good in the air. Reads the game well. He hasn't been perfect, but he's been good.
Ed: 6. Tough as nails, he's been a mostly steady force, although the lapses can be truly alarming. Am I alone in expecting more (even if I'm not sure what the "more" might be)?

Eli: 7. Quiet and unassuming, Parke has turned in a solid first half of 2013.While he may lack Carlos Valdes' athleticism, Parke makes up for it with veteran guile, as he rarely puts a foot out of place, even against the speediest attacker. At times can appear too casual out of the back, conceding possession easily and allowing opponents to hit straight back.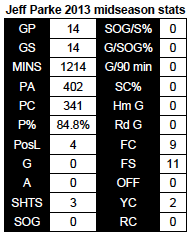 Adam: 5. What Dan said. With the caveat that Parke was supposed to be all those things and the veteran presence that solidified the back line. Instead he has played his own game well but failed to impart the lessons or organization his young back line requires to keep clean sheets against good opponents.
Mike: 6.5. Not flashy, but routinely reliable. Rarely makes mistakes, plays reliably out of the back, solid positioning and a good aerial presence. A necessary veteran on a very young backline.

Greg: 7. Strong leader and physical presences. Plays with a chip on his shoulder, though raceting back the temper a bit would do him good.
Earl: 6.5. Has filled the gap left by Valdes. Aerial presence and steady passing have been key, but tough to forget his Open Cup lapse against D.C. Must remain healthy for the Union to make the playoffs.
Jeremy: 6. Parke has been generally good, but Okugo has been better. Considering the veteran's pedigree, I'd expect Parke to improve as he settles further.
Sean: 5. Has been inconsistent out of the back. He's played some very good games, but has had his share of stinkers this season. Parke always leaves me wanting more. I expect more from him in terms of leadership and organizing his young back line.

Dan: 7. Excellent on the attack when paired with a complimentary right midfielder. Stepped up his defense in recent games.
Ed: 6. Has been turning it on as the season progresses (and since Le Toux has joined him on the right), but it was rough going earlier in the season. Very nice to see his always spectacular throw-ins turning into goals this season.

Eli: 6. Shook off some early season struggles, righting himself with a string of quality showings where he has done well to blend defense and attack. In his haste to get forward, Williams can shirk his defensive duties at times. Going forward, he must remember that his best matches are all built around a sound, defensive foundation, before he pushes forward into the final third.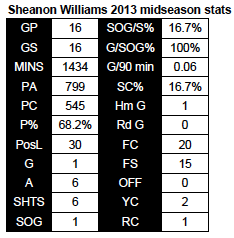 Adam: 7. Two things were working against Sheanon Williams early in the year: Amobi Okugo was still fighting his urge to get forward and Danny Cruz was still searching for the urge to get back. With a more disciplined middie and a more mature Okugo, Williams has returned to being the dangerous offensive force and gritty defensive presence that the Union expect him to be. And while his crossing can be inconsistent, it has improved by leaps and bounds. Plus, he has stepped into a leadership role in a big way.
Mike: 7. Seemed to struggle to get forward much early in the season but has been doing so more lately. The long throw is turning into a powerful weapon with some height to aim at in the box. Seems to be stepping into a leadership role in his fourth year with the club.

Greg: 7. Starting to put his early season struggles behind him. Has really improved since Le Toux moved to right mid. His throw-ins were always a threat, now they are weapons.

Earl: 7.5. Williams' throw-in has dealt the Union a number of points. Not asked to provide much going forward under John Hackworth, but Saturday's 2 assist match was the perfect example of his emergence as a weapon.
Jeremy: 6. After an uncharacteristically mediocre start to the season, Williams has really hit a groove of late. If he keeps it up, he's one of the Union's—and MLS's—best.
Sean: 6. Started the season slowly, but has improved as the season has progressed. Those long throw-ins are such a dangerous weapon that the Union have put to good use.

Chris Albright: 4 minutes; Don Anding, Fabio Alves: 0 minutes; Carlos Valdes: on loan; Bakary Soumare: traded
Union midfielders midseason overall rating: 4.45

Dan: 6. A one-dimensional cog at defensive midfield. Still, that dimension—shielding the back line—is one he performs quite well at times.
Ed: 6. He gets the job done and, occasionally, also does so in a manner that draws much deserved attention to how good he really is. If only the Union had someone who could play in the midfield in front of him.

Eli: 5. In his first year as captain, Carroll has taken time to grow into not only a leadership role, but a new role within the Union's formation. Given the struggles of whichever playmaker is trotted out next to him on a given match, Carroll has slowly learned to forego the safety of his spot directly in front of the back four. Roaming forward into new territories, Carroll is at his best when he is playing crisp, lateral balls on the deck, rather than when he punts, literally, lofting unappetizing high balls that turn over position 10 out of 10 times. Has been asked to shoulder an immense burden defensively, but has responded well, rediscovering good form as the midfield stopper and improving with each passing match as an organizer and vocal leader.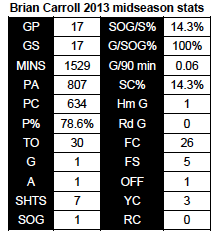 Adam: 6. A "good" rating is the biggest compliment you can give Brian Carroll. He was below par for a significant portion of the season but has showed his importance of late. As Carroll has improved, so have the Union. It's quite incredible how heavily the success of the midfield relies on Carroll reading the game and making plays. And it's scary to see how bad things get when he is asked to do too much.
Mike: 5. A few very solid performances mixed with a fair amount of mediocre ones. Doesn't contribute enough offensively and continues to have a limited passing range.

Greg: 6. Improved run of late including his dominance against the Crew. BC is BC and what you see is what you get.

Earl: 6.5. Carroll has been the best in a weak midfield. The partnership with Keon took a long time to gel but seems to finally be coming around. Thwarts opposition attacks to help foster confidence in backline.
Jeremy: 6. Captain Carroll is very good when asked to do a job he understands, and not very good otherwise. Luckily, the coaching staff seems to have figured that out.
Sean: 5. BC is such a steady force in the Union midfield. His struggles this year are likely caused by another teammate's desire to take up the same space on the pitch (I'm glaring at you, Keon) and push the captain out of his comfort zone.

Dan: 4. The Tasmanian Devil plays recklessly, predictably and wildly out of control. He causes fits for weak fullbacks, but good ones shut him down.
Ed: 5. Yeah, he continues to disappoint all too often in the final third, but watching him turn up field after receiving a cross field pass continues to be thrilling in its speedy and gritty potential. If the Union had true depth in the midfield, would he be an automatic starter, or would he be an impact sub or a tactical, rather than automatic, start?

Eli: 3. A one-trick pony on either flank, Cruz lacks the technical quality to challenge defenders in any manner other than running in behind them. Given that fact, and the lack of defensive cover he provides his fullback, perhaps it is time to change the letter in front of his name from an M to an F. Either way, two goals and two assists is a very meager return for an attacker whose manager appears to consider him an automatic starter.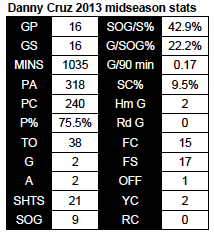 Adam: 5. You simply can't deny that Cruz's numbers match up well with mid-level attacking wide players in MLS. But Alejandro Moreno has earned his money this year by pointing out how Cruz should be a game changer almost every match. He gets the ball in good positions and makes bad decisions with the consistency of a sitcom character. I remember my dog used to chase squirrels in the back yard and the one time he caught one, he just threw it with his mouth then sat there and watched it run away, wondering, "Wait, what did I want to do with that?" That's how Cruz looks in the final third. It's frustrating, but not nearly as frustrating as watching him ignore defensive responsibilities. So there are major flaws in Danny Cruz's game, but he's in a good place to learn. The question is: Will he?
Mike: 4. Wish he could convert some of his outstanding hustle into a bit more controlled movement. Still trying to define his role: Is he there to beat defenders one-on-one and put in crosses? Running behind the backline looking for through balls? Would love to see him help out the outside backs a bit more.

Greg: 5. Good athlete, needs to work on his soccer smarts and pick his battles more on the field. His recklessness with his body hurts the team on occasions and could shorten his career.

Earl: 5.5. He's not going to win a lot of soccer matches himself, and his missed chances have caused many a expletive to be uttered by Union fans. But he causes problems for the opponent. Until a guy like Mike Farfan steps up, it's Cruz's job.
Jeremy: 4. Cruz offers a lot of effort, but not enough end product. An improved touch and better decision making in the final third could push him to another level.
Sean: 3. Cruz is a tackle football player trapped playing soccer. His touch is dreadful and he rarely tracks back to play defense. File that brace against Seattle under the category of "Blind squirrel finds nut." All that said, he works really hard.

Dan: 3. Keon has been consistently mediocre, at best. He has offered almost nothing to the attack. Not good for your central attacking midfielder. There is no question that he's shown talent over the years, but he is miscast in the CAM role.
Ed: 4. Another Union player being asked to do what is beyond his skill set.

Eli: 4. Maddeningly inconsistent at times, Daniel's slow, methodical skill set simply is not suited to the CAM slot into which the Union are trying to force him. For all the work he does in midfield to win and maintain the ball in midfield, his lack of vision and accuracy in the final third serves to frustrate his teammates and fans, alike. Considering his strike duo consists of one of the elite MLS target forwards, and a young superstar with perhaps the best positioning and movement in the league, Daniel must learn to get his head up and play quickly if he is to improve on his attacking failures.

Adam: 3. He's a good player. And that's what makes this season so frustrating. Daniel is so clearly not the right complement to Brian Carroll that you wonder if Peter Nowak is sneaking into the locker room and writing his name on the lineup card. Daniel is good in possession but conservative and patient. As long as Michael Farfan is out of form, this means the Union have nobody who can spread the ball around in the midfield. Additionally, Daniel doesn't put good pressure on deep-lying midfielders, meaning the Union can be sliced to pieces by any offense run by a moderately competent air traffic controller in the center. A good guy to have on the squad, but his role needs to change ASAP.
Mike: 4. Too languid in the midfield. Too many moves by the Union die with Daniel in possession. Routinely plays too deep and close to Carroll. One assist and only five shots on goal for your offensive center midfielder is not effective enough.

Greg: 4. Wedged into the attacking mid role which does not suit him. Often out of the flow game, can show flashes of quality.

Earl: 4.5. He has been the advanced central midfielder by default, and that's about all you can say. Creative passing has been scarce so far, though June has seen him become more daring. If he's going to be the CAM, he's gotta provide.
Jeremy: 3. Keon, like the rest of the team, has improved his play in the last few games. That said, he spent much of the season before now as a lead weight around the neck of the Union offense.
Sean: 2. Get off the field! Daniel is where the Union's offense goes to die. Too often, Daniel drops deep into to midfield and disappears from the Union attack. With creative midfielders Michael Farfan, Roger Torres and Leo Fernandes on the bench, there is just no reason Daniel should get the minutes he does.

Dan: 4. What's wrong with Marfan? You can't play a guy everywhere but his best position and expect him to flourish. It's completely stunted his progress as a player.
Ed: 4. You can't make someone the first and last player off of the midfield merry-go-round and expect him to always find his feet. I really hope he can turn it around but, right now, he may be the biggest disappointment of the season next to MacMath.

Eli: 3. Shorn of confidence, Farfan is a shell of his 2012 self. The aggression and tenacity with which he attacked defenders has vanished. Without that drive, he has devolved into an ordinary player who looks to be forcing matters every time he takes the pitch. Should Le Toux partner with Casey in McInerney's absence, a return to the right flank, and a renewed partnership with Williams, might be just what Farfan needs to kickstart his season.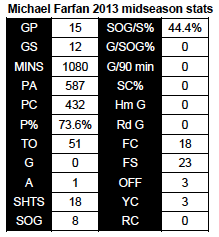 Adam: 4. Only a point above Daniel because he has been played all over the pitch instead of being given a defined and consistent role. Not that he has earned a defined role, but others have been given one despite mediocre play. Probably the most frustrating thing about watching Michael Farfan is knowing that he has the ability to dominate a wing. He can run at players, put in early crosses, and generally provide the creative spark that changes a match. But he has not adapted to a central role, still taking too many touches and checking in with the eagerness of a kid walking to the school bus. What really makes Roger Torres stand out is how much more energy he brings than Farfan. Michael Farfan should be the Sheanon Williams of the midfield, but right now he isn't much at all.
Mike: 4. He just seems off from the player he was last season. Too often gets lost for long periods and appears disinterested.

Greg: 5. Probably the most maddening player right now. I lay some of his struggles at the feet of the coaching staff shifting his position around, but except for the recent Red Bulls game, hasn't really seized any of his opportunities.

Earl: 5. Tough to blame him, since he's been thrown in just about every advanced midfield role thus far in his career, and he has looked lost. New York and Dallas matches may have snapped him out of his funk, but both good performances came against 10 men.
Jeremy: 5. Farfan has underwhelmed this season, though he hasn't been helped by the odd formations of the early games. With Keon off for the Gold Cup and Kléberson injured, he has a chance to reassert himself.
Sean: 5. For the love of all things DOOP, Coach Hackworth give me more Marfan!!!

Dan: 5. Showed flashes of great attacking ability and then shrunk from physical play. Is he still hurt, or is he just soft?
Ed: 4. Central defenders eat technical players who can't handle the hard stuff for lunch. The league has seen today's menu.

Eli: 4. After turning in clever, energetic performance against the Galaxy, Kleberson's play dropped off considerably when teams began to batter him physically. Like it or not, that's MLS, and if Kleberson is to have any success once he returns from injury, he will have to deal with that fact.

Adam: 4. He's not Freddy Adu.
Mike: 3. Needs to toughen up. Very easily dispossessed and pushed around in a very physical MLS midfield. Makes less money than Freddy Adu did though. 

Greg: 4. Has good vision and a keen sense for where the ball is, but wants zero part of the physical game.

Earl: 4.5. The Los Angeles match seems like an eternity ago, but that glimmer from Kleberson injected hope. Faded against Montreal, then came off injured in Toronto.
Jeremy: 6. Kléberson has shown real flashes of ability, but also an unwillingness to cope with the physicality of MLS. His post-injury play will decide whether he stays beyond this season.
Sean: N/A. I need to see more. The World Cup winner has treated us to a few flashes of brilliance, but appears to be uneasy with the physicality of the league.

Dan: 5. Did everything he was asked to do, including play positions he's less than good at. His versatility and ability to help close out a game have been missed during his injury absence.
Ed: 5. It will be nice to have this utility man available again, especially late in games.
Eli: 4. Having been kept out of the team since April through injury, Lahoud is close to putting those issues behind him and getting back on the field. When he is fully recovered, the Union utility man must focus on taking his quick, short passing game and making it more positive. Efficiency is important, but Lahoud's choppy style often sees him delivering the ball to players who are in worse positions.

Adam: 5. A role player who should be on the bench every game and see the field if the Union need energy.
Mike: 4. Seems like ages since we've seen him. With the Union throwing away a few leads this season, you wonder if Lahoud could be a nice shut down midfielder for the last 15 minutes of a match.

Greg: 4. Solid, if unspectacular player who has been bit hard by the injury bug this year.

Earl: 4.5. Early season toying with 4-2-3-1 meant Lahoud got some starts. Inability to mesh well with Carroll and Daniel led to the scrapping of that tactic. Injury has kept him out since.
Jeremy: 5. Lahoud has hardly played this season, but has acquitted himself well when given the chance. Now dealing with a sports hernia, he is a useful squad player.
Sean: NA. Where have you gone Michael Lahoud!?! Last I saw him, he was getting his picture taken with a pig at a Reading United game. When he returns to full fitness, he should slot in ahead of Keon Daniel.

Roger Torres: 18 minutes; Leo Fernandes, Matt Kassel: 1 minute; Cristhian Hernandez, Greg Jordan, Jimmy McLaughlin, Zach Pfeffer: on loan; Gabriel Farfan: traded
Union forwards midseason overall rating: 7.43

Dan: 9. The target forward the Union have sought since 2009. Strong in the air, keys the passing game, and frees space for Jack McInerney. The perfect signing so far.
Ed: 8. We waited four seasons for this kind of player. Long may he remain healthy and fit.

Eli: 7. After a slow start where he was working his way back to full fitness, Casey has been on a tear since securing the starting spot. A model professional, Casey leaves it on the field as he not only throws himself into every aerial challenge, but is also willing to chase play out wide to have an impact. Hopefully his fitness holds up, but given Hackworth's lack of squad rotation, Casey has already played more minutes than in 2011 and nearly as many as last season. Strategically resting the big striker will be key to keeping him fit and effective down the stretch.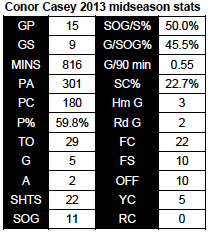 Adam: 8. The hope was that Casey would give Jack McInerney the space he needed to become a goal-scoring threat. Check. The bigger hope was that Casey would rediscover some of his own goalscoring prowess. Check. The hope beyond hope was that Casey would do it all while staying healthy and providing a steadying influence to an emotional team. Mostly check. Also, looking like a cross between Lex Luthor and Captain Morgan wins major bonus points.
Mike: 7. The Union have needed a striker like Casey for so long. Holds the ball up well, powerful in the air and dangerous from set plays. Would like to see his creativity in and around the box improve but is developing good chemistry with Jack McInerney.

Greg: 8. The physical forward presence the Union never had. Knows his role, which is to hold the ball and drag defenders all over the pitch. Tough and strong, but with a soft touch around the net.

Earl: 8.5. It took 3 years to get that target forward, but the big man has done a lot more than bang bodies against center backs. Showing himself to be a thorn in Red Bull's side with 3 goals this season against the I-95 rivals.
Jeremy: 8. Casey has been everything the Union could have hoped for and more. Big and powerful, he also has very deft feet, and a wonderful burgeoning partnership with Jack Mac.
Sean: 7. Casey has paid dividends for the Union coaching staff that took a gamble on him in the MLS Re-Entry Draft. The former national team member has become a fan favorite for his gritty play and is second on the team in goals scored.

Dan: 5. Defenders and referees have figured him out, but his quickness and vision still offer the Union a lot. Needs to stop diving, or we're setting up a diving board at his locker.
Ed: 5. Has visibly improved since last season, but the payoff has largely been absent. What he does in McInerney's absence may define his season. What's with all of the falling over? As one of his team mates would say, "Knock that sh!t off!"

Eli: 5. Has seen his role changed from a forward substitute to a "midfield" one. Anyone who has seen Hoppenot play understands the quotations around midfield, as there is only one thing in the second year striker's mind when he enters a match. Considering his wide berth though, his play remains far too direct. Hoppenot must improve his passing game, if only to keep defenses guessing on the exact moment when he will dart into the box.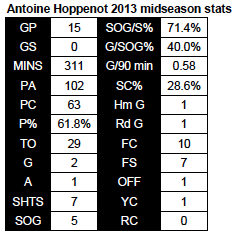 Adam: 7. The guy does a job and does it well. He can be misused by John Hackworth, who will stick change formations just to get Hoppenot into the match. But that isn't the player's fault. The goals are starting to come, and his late game pressure may be his best weapon.
Mike: 5. Looked improved early in the season but has faded as of late. Seems out of sorts when deployed as a wide player. Either needs to stop diving or get better at it.

Greg: 7. Might be the most improved player from last year. Matured since last season, adding better touch and vision to his game.

Earl: 5.5. He seems destined to be that first man off the bench, an injection of speed and energy. Quite a surprising goal in Montreal, but his biggest contribution came in setting up McInerney in Colorado.
Jeremy: 5. The Princeton Cannon hasn't hit the heights of 2012 in his many substitute appearances. With Jack gone for the Gold Cup, he has a chance to shine.
Sean: 6. The Union's super sub has stepped up his in recent matches. His pace and tenacity frustrates tiring defenders and help to create opportunities for teammates.

Dan: 7. His dramatically improved set pieces have given the Union attack a new dimension. His crosses have been pinpoint. His selfless team play is something else altogether. Le Toux's evolution has been a joy to watch.
Ed: 7. With early season frustrations behind him, he gets a point for demonstrating a willingness to adapt to a new role and thrive while doing so. Still, wouldn't we all like to see more goals from him?

Eli: 6. After cutting a frustrated figure in the early going, Le Toux has laudably reinvented himself on the right flank. Far from a technical wizard, Le Toux has used his immense work rate to create attacking chances for himself. Running onto balls from the midfield, he can take a minimal amount of touches before firing his cross into the box, or cutting it back for a late runner. How Hackworth handles his positioning in the absence of McInerney will be one of the major storylines for the second half of the campaign.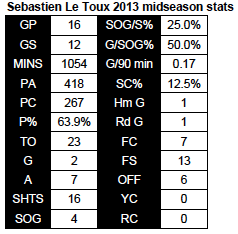 Adam: 8. It's easy to forget that Le Toux's return was treated with, at best, guarded optimism. What do you do when the guy who used to be the big cheese returns to compete with the guy who took his role and his number? Add in that Le Toux had never flourished in a wide role and the whole second coming seemed like a disaster waiting to happen. Nope. The set pieces have been spectacular, the wide play steadily improving, and the effort unquestionable. Le Toux has proven himself to be a team player and it's great to have him back.
Mike: 7. Wouldn't have guessed he'd be leading the league in assists at the midway point. His good games have been great but his bad games have been really bad. Still a passionate worker but seems to still be figuring out the positioning and timing of playing on the wing. His set pieces and crossing are much improved! 

Greg: 7. Retooled his game when he was moved out to the right. One of the top providers in the league right now and is working well with both Conor and Jack as well as Sheanon. Could use a few more goals though.

Earl: 7. A tale of two quarter-seasons. First Hackworth tried to use him up top to no avail. Le Toux has shown great value on the right wing, leading the league in assists.
Jeremy: 8. Everyone knows that Le Toux runs hard, but the conventional wisdom was that he didn't contribute much from anywhere but up top. The current MLS assists leader has proved that old dogs can learn new tricks.
Sean: 7. Following his dream return to the club with a goal in the home opener against Sporting, Seba has accepted the role of provider to McInerney's goal scorer and now leads the league in assists. Sure, his touch sometimes resembles mine (which is to say it's not good), but his workrate creates . Will get a chance to once again lead the Union attack as Jack Mac departs for Gold Cup duty. 

Dan: 10. That's right. A 10. Lethal finishing. Perfectly timed runs. Good in the air. Even played center midfield once. A dream opening to the season.
Ed: 9. Living, breathing, goal-scoring proof that Peter Nowak was bat sh!t crazy. Does anyone doubt that he's gonna just get better?

Eli: 8. Has done everything asked of him, and more, putting the team on his back long stretches in 2013. With better service, McInerney could be comfortably leading the Golden Boot chase. Union fans will hope a month with the USMNT will see the young striker return with confidence and the desire to force his name into national team consideration, permanently.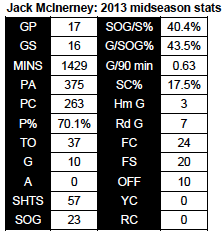 Adam: 10. He's the MVP of MLS. The Union are hanging out with DC United without Jack Mac's steady stream of game-winners. And when he hasn't been scoring, he still stretches defenses and moves into open spaces with a high workrate. Early in the year, many were content to call him a one-trick pony with a knack for well-timed runs. Not true. He's good in the air, strong on the ball, confident, and has adjusted his game as teams plan around him. Make no mistake: It only gets harder from here for McInerney. But there is nobody in the league that did more to help his team succeed than the kid who makes a Balotelliface when he scores.
Mike: 9. Has scored 10 goals, 7 on the road and 5 for game winners. Has dropped into the midfield to help in possession well. Would like to see his outside shooting develop a bit more. Jack has been immense for the Union though and his goals have the team probably a few places higher than they should be in the Eastern Conference.

Greg: 9. What can you say? Scores goals every which way. All his goals seem to come at the most important part of a game. Wrongly derided by some as just a poacher, he works all game with his runs to set up that one moment to put the ball in the net. His defense has picked up as well.

Earl: 9. Carried this team on his back with 10 goals to start the season before cooling off in June.
Jeremy: 9. Nothing short of extraordinary. Expect a barnstorming finish when he comes back when he returns from his next step of development at the Gold Cup.
Sean: 9.5 League leader in goals, first Union regular to be called into the full USMNT, should represent the Union in the 2013 All-Star Game. When Jack scores, the Union win. It's kind of fun to watch a star being born.

Aaron Wheeler: 12 minutes, 1 goal
Stat charts legend
GP: games played; GS: games started; MINS: minutes played; PA: passes attempted; PC: passes completed; P%: passing accuracy percentage; PosL: possession lost other than from incomplete pass; G: goals; A: assists; SHTS: shots attempted for field players OR shots directed at goalkeepers; SOG: shots on goal; SOG/S%: percentage of shots attempted on goal; G/SOG%: percentage of goals from shots on goal; G/90 min: goals per 90 minutes; SC%: scoring percentage; Hm G: goals scored at home; Rd G: goals scored on the road; FC: fouls committed; FS: fouls suffered; YC: yellow cards; RC: red cards; SV: saves; GA: goals allowed; GAA: goals allowed average; PKG/A: penalty kick goals attempted/allowed; W: wins; L: losses; T: ties; ShO: shutouts; W%: win percentage; SV%: save percentage