Photo: Earl Gardner
Time: 9:30pm ET
Place: JELD-WEN
TV: ESPN2
Referee: Baldomero Toledo (or "Baldmero," as he's known in the Portland media guide)
Is it really time for the 2012 season to begin? It seems like only yesterday Peter Nowak was bullishly defending his third straight experimental lineup as the Houston Dynamo celebrated. Oh, how time flies (like a goal-scoring Frenchman on the red-eye to Vancouver).
The 2012 Union are a much different outfit than the one that took the field in late 2011. The shortage of outside backs has been addressed (though depth in the middle didn't materialize), the strike force is newer, deeper and currently leaderless, and, best of all, Keon Daniel is back!
Change is good… right?
Rolling in the wholesale changes after year one was expected. Making a second trip to the remodeling department in two years? Didn't know that was in the cards. It may turn out well or the front office may end up with egg on their face, but all the offseason moves are nothing if not intriguing.
Gabriel Gomez and Porfirio Lopez are the new faces most likely to make the first eleven. Gomez should help the Union deal with Jack Jewsbury, who was hard to contain last year from his deep-seated, distributive role. Lopez gives the Union a left back with experience at the position. While the speed at which Gabriel Farfan adapted to the back line deserves nothing but praise, it was important for the Union to bring in someone with years of experience to complete the already-strong defense.
Gomez, Lopez, Josue Martinez and Lionard Pajoy could all see significant minutes against Portland, and this speaks to how little we know about Philadelphia's prospects this year. Once again we are putting our trust in Diego Gutierrez's fantastic scouting record and hoping that the manager will show the tactical acuity to put the new pieces in good positions.
Key areas to control
If they want to put their stamp on the game the Union must control the middle twenty yards of the pitch, and they must force Portland's defense to play the ball.
Last year Philadelphia would often cede the middle twenty yards of the field. They wouldn't exactly give it away, but with a roaming central midfielder in front of a very deep Brian Carroll, opposing teams often found a soft spot by passing around Le Toux in the back, then playing short passes through the middle.
If Portland finds such a soft spot, they have Kris Boyd to finish off a passing move. Boyd is a fairly good player, but he excels as a finisher. And 2011 Goal of the Year winner Darlington Nagbe will be following him in to pick up any scraps.
Gomez and Carroll are mobile enough to play reasonably high without getting caught out. They will need to pressure in the middle third to prevent Jewsbury from running the game and to close the gaps that will form behind their offensive-minded wide partners.
Freddy Adu is penciled in on the right and Keon Daniel may see his name scratched onto the opposite flank. Both Keon and the other possible starter, Michael Farfan, are quite good at covering their defensive responsibilities. Freddy Adu, on the other hand, is more of a gunslinger. He likes to sit high up the pitch and make the guilty spring back only at the last possible moment. Lucky for him one of the league's best cover corners has his back.
The other key area the Union have to win is the first line of defense. Sebastien Le Toux's ability to pressure had a lot to do with the quality of attack the Philly defense saw in the past. Without him, the strikers have to play smart and work together to force long balls out of the back. Portland isn't blessed with a center back who can distribute like Carlos Valdes (on a good day), so making them work around Jewsbury and Chara is key to controlling pace and possession.
Key matchups: Goalies and set pieces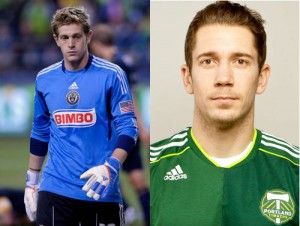 Ah, Troy Perkins. The man with the ignominy of being on the other end of the Union's first win as a franchise, and that after having the Union trade away the right to select him when he returned from abroad.
Mr. Perkins has resurrected his career in Portland and will be looking to outplay second year pro Zac MacMath. Taking the reins from Faryd Mondragon, MacMath has big shoes to fill. Both he and Perkins will have to be in top form because early season mistakes, as Vancouver's win over Montreal proved, will happen in front of them.
The other place the Union have to come out ahead is on set pieces. Specifically, those of Portland. With a big center back pairing, 6'1″ Kris Boyd and potentially 6'1″ behemoth Bright Dike rolling through on free kicks, it is imperative that Philly be in midseason defensive form. Jewsbury did a dangerously good Brad Davis impression over set pieces in 2011, so the balls in are likely to be good. It will be a big task for MacMath to organize on free kicks; he will need his teammates to listen the way they would when The Dragon was talking.
Biggest Question 
For Portland, it's whether 2011's number two SuperDraft pick Darlington Nagbe is healthy and motivated. Nagbe has a knack for goalscoring but, if recovered from an ankle knock, he is likely to find himself on a wing feeding Boyd and Jorge Perlaza. He has enough talent to occupy two players, so finding Nagbe in a threatening mood will create the space Portland needs to control the game's tempo.
The Union, on the other hand, need to scare the Timbers early. Everybody agrees that Philly is loaded with offensive potential. Turning a bit of that potential into an early opportunity or two is essential to the confidence of the offensive unit and, in particular, the ever-spotlighted Danny Mwanga.
What to watch for
The Sebastien Le Toux trade was a forceful announcement that the Union do not intend to live and die by the counterattack anymore. In their first match of the new season, the team has to show that it can control the tempo for extended periods of play. The Timbers will not be a paragon of defensive shape, and the gaps they leave can be exploited by a calm, patient attack.
Robin van Persie's emergence as one of the best center strikers on the planet is the convergence of many things: Talent, health, and formation just to name a few. Some argue that RVP's willingness to leave build-up play to his midfielders and concentrate on being in the right position to make a killer finish has also contributed to the Dutch marksman's success. How will Danny Mwanga handle the center striker role? And how will the Union set up around him? In a high-pressure, nationally-televised road match, the spaces where Mwanga tries to receive the ball (and whether he wants it with his back to goal or on the run) will dictate the flow of the Union's offense. Keep an eye on where Mwanga's sweet spots are, and how the team shapes up around him.
Finally, getting chances within the opponent's eighteen-yard box is essential. Settling for shots from distance is not acceptable with so many dynamic offensive players on the pitch. If the combination of Freddy Adu, Gabriel Gomez, and Michael Farfan can't get someone in behind the defense, the only conclusion to draw is that the team was unprepared for the start of the season.
Predictions
Scoreline: 1-2 Union double up the Timbers on a late winner (The Union don't broadcast preseason games, so nobody has the faintest what they will look like out of the gate; it's better to be optimistic when you know you're ignorant.)
7 yellow cards
2 Waved-off penalty calls
1 Le Toux spotted in the stands (he's only 5.5 hours away!)
0 Carlos Ruiz dives unpunished defensive infringements
Injuries/Suspensions
Portland
Out: Futty Danso (foot) David Horst (Hip), Eddie Johnson (concussion), Steve Purdy (hamstring), Sal Zizzo (ACL)
Questionable: Franck Songo'o (knee)
Probable: Kris Boyd (ankle), Darlington Nagbe (ankle), Jorge Perlaza (achilles)
Philadelphia
Out: Torres (ankle)
Probable: Chris Albright (groin)
Lineups
Portland (flat 4-4-2)
GK: Troy Perkins
DEF: Lovel Palmer, Hanyer Mosquera, Eric Brunner, Rodney Wallace
MID: Darlington Nagbe, Jack Jewsbury, Diego Chara, Eric Alexander
FWD: Jorge Perlaza, Kris Boyd
Subs: Kalif Alhassan, Bright Dike
Philadelphia (flat 4-4-1-1)
GK: Zac MacMath
DEF: Sheanon Williams, Carlos Valdes, Danny Califf, Porfirio Lopez
MID: Freddy Adu, Gabriel Gomez, Brian Carroll, Michael Farfan
FWD: Danny Mwanga, Jack McInerney
Subs: Josue Martinez, Keon Daniel, Lionard Pajoy
Misc
Portland (0-0-0) vs. Philadelphia (0-0-0)
Portland went 9-5-3 at home last year. The Union went 4-7-6 on the road. One of Portland's wins was a 1-0 victory over Philadelphia, featuring a Futty goal off a dead ball delivery.
Both teams traded away their leading goal scorer from last season and both players scored in Week 1 MLS action
Portland has yet to lose a preseason game since joining MLS (6-0-9 overall)
The Union have yet to televise a preseason game since joining MLS
The Media Guide calls the Union's pushing-shortened game against Belen "a fractious contest."
Peter Nowak recently said, "I think we got generally bigger this year with Porfirio Lopez and Gabriel Gomez. They're a couple of guys who can (defend set pieces)."
Don't forget what Danny "Bring Danger" Mwanga has on his mind in 2012: "I'm pretty confident I'm going to be one of the guys out there that will bring danger to the opposing team, but I know for sure it's not going to be a one-man show."
Neither team lost when leading at halftime last season
Each team scored more than one goal nine times last season. Philly never lost when scoring two or more goals. Portland was 5-2-2.