Photo: Nicolae Stoian
But if you see me walking by,
And the tears are in my eyes,
Look away, baby, look away.
If we meet on the streets someday,
And I don't know what to say,
Look away, baby, look away.
Don't look at me;
I don't want you to see me this way.
CHICAGO, "LOOK AWAY"
"Tim, you just got Sebastien Le Toux, lucky b@stard"
That quote is from a text I got the day before Thanksgiving in 2009 after the expansion Philadelphia Union grabbed a Seattle Sounders player Sebastien Le Toux in the expansion draft. That text was from my friend Seattle Keith, a Sounders fan.
I never forgot the text because, when it got closer and closer to the Union beginning their existence, where players were in and out, where there were rumors all over the place (remember the Clarence Seedorf rumor? The RAUL rumor? You won't forget that Raul rumor because it lasted for 15 seconds and here we are three years later and I still havent shut up about it), the SuperDraft—all along I said,"You know, this Le Toux seems like a lot of fun, Sounders fans are angry to lose him, this could be fun."
Needless to say, from that first Union season on, Seattle Keith was right. Sebastien le Toux put his (purple clad) foot on the gas, and never lifted it. Not only did he have the instinct to score goals, what made him an absolute BLAST to watch was that he just never stopped moving. He never stopped running, and at the end of his 90 minutes (because he played every minute) all you could say was "WHAT A WARRIOR." We all even watched that French documentary about him in Philadelphia. (Thank you Madam Beachey from 9th Grade French class, I could understand about every 15th word.)
Just for the record. I'm grateful to Seattle for four things:
Jimi Hendrix
FRASIER
Nirvana
Sebastien Le Toux
The Union and Le Toux were dynamic enough to make my brother Bryan a HUGE Union fan. My brother Bryan is a bit of a warrior himself. Long story short, he works excecutive security for a very important national landmark. It's a landmark that bad guys may someday wish to attack, so as a result, my brother and his fellow warrior friends are highly trained guys and their days are their nights, their nights are their days. So for these guys, following sports isn't easy because they never get to watch them during their 12-16 hour days. That changed when we were watching the Union do their thing in Year One. Sebastien Le Toux converted a mighty penalty kick, and my brother has been hooked ever since.
Last summer, I took my brother and some kind folks to see the UNION vs the Galaxy. It was a PACKED house with many new fans. Maybe they were there to see David Beckham, but he skipped that game. I think he had to clip his toenails or catch up on reruns of "DALLAS" on his DVR so he didn't make the trip with the team. He wasn't missed, because I had the joy of watching so many fans enjoying the LIVE Le Toux experience for the first time. On TV he's great. But live, it's so much more fun, because you can see whenever you want that he really doesn't stop—he runs the entire time, looking to make a play happen. I'm not sure what I enjoyed more, the usual live Le Toux experience or watching the Union fans, who, like my brother Bryan, were enjoying their first LIVE Le Toux experience. This is how everyone looked who'd watched him for the first time: both palms up, shoulders shrugged, eyebrows arched and goofy grin. This Le Toux guy was something special, and we were ALL apart of it.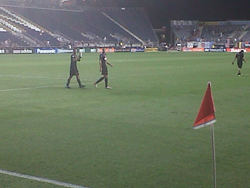 It doesn't end there. After Le Toux would leave it all out there on the field, HE would be the one who was grateful. He would stay after the game walking around the field countless times and applaud the fans for being there for him. I took a snap shot, courtesy of my crappy Blackberry. The stands are practically empty and he's still out there applauding every last fan. It's the type of guy he is.
Now, this morning I heard the insane news that Sebastien Le Toux is leaving town to go to Vancouver. I don't know why, but at this stage in the game, I treat Union head honcho Peter Nowak's decisions the same way I treat Radiohead songs, LOST episodes or the ZELDA videogames when I was a kid: I don't understand them, but I'll go with it.
So with that said, I can only wish Sebastien Le Toux the best and hope that, here in Philadelphia, his Union jersey will get the same "immediate classic throwback" status that Allen Iverson, Mike Schmidt, Brian Dawkins shirts get around town. We'll miss his fire, his easter egg colored boots and his flash mob commercial goal scoring dance. Vancouver Whitecaps fans? I'm passing along the same message I received when we got Sebastien Le Toux: "You just got Sebastien Le Toux, lucky b@stards"
Please feel free to share your favorite Le Toux moments below.