The ball is round. The place is Philly.
Photo essays / Union
Posted by Paul Rudderow on September 6, 2010 at 12:39 am
Click on each photo for a full-size version.

Photo essay by Paul Rudderow
Author: Paul Rudderow
Paul's work has been used on numerous blogs, websites, and by the Philadelphia Zoo. He has covered Philadelphia Union since the inaugural season and has also photographed the Independence, Fever, Fury, USWNT, international friendlies, and more. You can check out his work on Flickr at http://www.flickr.com/photos/39285097@N02/.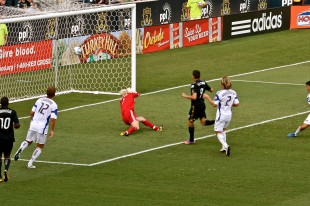 Union highlights: Bedoya claims the Supporters' Shield for Union
Union captain Alejandro Bedoya speaks to fans as the Union claim the Supporters' Shield on Sunday.
Press conference: Jim Curtin
Union head coach Jim Curtin speaks with reporters after the Union's 2-0 victory over New England to claim the Supporters' Shield.