The two most patriotically nicknamed teams in MLS have similar records and have played a similar style of stingy defense over the last few weeks.
Who are they?
The Revolution haven't given up a goal in their last four games, although three of those were SuperLiga matches. The other was a 2-0 win over the Galaxy on July 10 that snapped a four game losing streak. And this was no ordinary losing streak. 3-0 losses to Seattle and Cruzeiro were followed by a relatively uplifting 1-0 loss to the Chicago Fire. Then came the crushing 5-0 loss to Real Salt Lake that included an 85th minute goal from Robbie Findley in his first game back from the World Cup. That's right – Robbie Findley scored a goal. Ouch.
Facing the Galaxy seemed like an unlikely point for the Revs to turn their season around. LA had not given up two goals in a match all season before New England's dangerous striker Marko Perovic and middie Sainey Nyassi's handed the Revs an unexpected shutout win. Since then, New England has reeled off three straight 1-0 victories.
Who are we?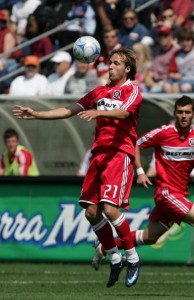 Not since the first match of the season has this question been more open. The Union's roster moves have been coming fast and furious and… only in the midfield. Despite having only two players who have scored more than a goal from the striker position (and Le Toux is now a midfielder), the Union have focused their energies on revamping the middle of the park. Early season favorites Roger Torres and Kyle Nakazawa might see themselves slipping down the depth chart as new signings Justin Mapp and Eduardo Coudet get their first chance to pull on the Snake in MLS play. Both players seem to have the experience and calmness on the ball that the Union need to make their ball possession style effective. Whether those talents will translate into a consistent 90 minutes from the blue and gold is the big question running through Peter Novak's mind.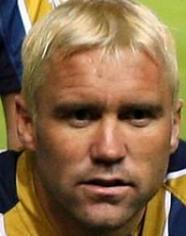 Regular starters Danny Mwanga, Alejandro Moreno and Jordan Harvey are listed as probable for today's match, but expect them all to be in the lineup. Whether Mapp and Coudet's arrivals finally push the misfiring Moreno to the bench is one of the major questions Union fans will be asking before kickoff. Shea Salinas, who – even after this latest flurry of moves – remains the Union's only real winger, is still sidelined with a fractured fibula. If you really miss him, check him out on the podcast.
Key Players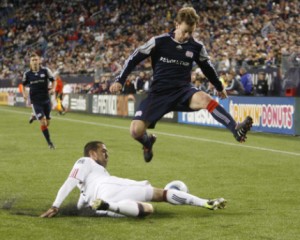 While Danny Mwanga has the highest long-term ceiling, Zack Schilawski was supposed to be instant offense for the Revolution. The Wake Forest product has come through for RevNation with five goals in all competitions thus far. While three of those came in Shil's home debut against Toronto, it's hard to fault the rookie for an inconsistent season. He has played next to MLS debutant Perovic and the two have had to carry the offensive load with very little support. Combined, the two players have 8 of the Revolution's 14 goals this year.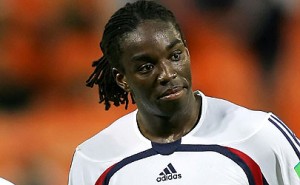 Look, I could give you a paragraph about Shalrie Joseph, but if you watched the All-Star game or have ever listened to John Harkes call an MLS match that didn't feature Landon Donovan, you know what you're getting here. Joseph understands the MLS game as well as any holding midfielder who has ever played in the league. He knows when to sit and he knows when to step up. He can't do it all though. If Mapp, Le Toux and Fred can make Joseph give the ball up before he wants to, the Union can stifle the Revolution attack without much difficulty. Oh wait, I just gave you the paragraph anyways.
Kevin Alston is the best defensive player on the Revolution roster. He's a shutdown defender when he's on his game. It's likely that Alston will get a heavy dose of the MwanGenius today, and that matchup will be one of the two that define this game. If Mwanga can get enough space to run at Alston and the rest of the New England defense, the Union should see some crooked numbers on the scoreboard.
The other key matchup is Joseph versus Le Toux. In his midfield role, Le Toux can cover a lot of ground. And guess what: He does. Le Tout Jour needs to get the big center middie out of position or the Union will be relegated to a long day of serving mediocre crosses into mediocre-to-poor aerial finishers.
Prediction
When Shea Salinas was on the PSP/KYW podcast, he talked about how important it was to make PPL Park a fortress. The Union don't have to worry about fan support, they just need to concentrate on channeling their energies into a full 90 minutes of good footy. More than any other team in the league, you could take one touch out of every Union game and completely reverse their fortunes thus far this year. Case in point: One Okugo pass in the Manchester game. This team is as good as we think they are.
Philadelphia 3-1 Revolution