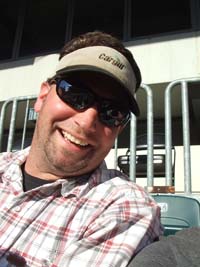 [Seated at midfield with several teammates. The guy to my left– the soon to be former keeper of my soccer team.]
Who are ya?
Richard Empson
Where are you from? Where do you live?
Kansas City, Missouri; recently Deptford, NJ, but I just moved to Delaware.
Do you have the season ticket?
I was splitting them with my buddy, but will have to give it up as I'm relocating close to Kansas for work.
Are you going to continue to support The Union?
I'm not a Union fan. I'm a Kansas City Wizards fan—but I'll  support them. I'll watch them. I'll go see them [The Union] in Kansas City.
Who else do you support?
My first team, as a third generation German American, was Bayern Munich. Then Arsenal.
How do you see The Union doing this season?
They might win 4 or 5. They need some star power. Moreno is too old. Seitz is a great keeper—I think he just needs to calm down and find chemistry with the defense.
Never mind Jersey—what will you miss most about Philly?
My friends. The relationships I've made. The history—there's no history in the midwest.
What won't you miss (besides New Jersey)?
I won't miss the peoples' attitudes out here about life. Too many people are too rushed, too hurried. There are great people out here but they're a minority.
Yea, we're working on that….
So, the World Cup is coming up!
Yea, I'm stoked for that—when else do you such quality opponents facing each other on such a grand scale with so many different styles of soccer on display?
How do you think the U.S. will fare?
It's really gonna depend on what the defense does. Onyewu is gonna be back so that's huge. Also, what Dempsey and Donovan does. They should do great, but I can't say it's a lock.
Of course, for me, after the US, it's Germany.
Let's just hope we get that dream rematch.
Yeah, that would be sick.
It should be noted that Rich said, " I feel like I'm in Kansas," when nothing from the pregame tailgate—cooler full of beer included—was missing from the back of his pickup after the game.
[Amidst a juggling session I ran into on my way back to the subway.]
Jose Larian.
Where are you from? Where do you live?
Boston; Newtown.
Do you have the season ticket?
Yeah, with my three friends—we've got seats at midfield.
We just fought back in extra time to earn a tie. Hopefully it's something we can build on with the promise the team has shown. What do you think of The Union so far?
A lot of things go through Torres. Our offense and midfield is pretty good, but our backline is weak. We need to be smarter on defense.
Yeah, the offense shows great potential at times, but needs to finish. Would you add someone up front or do you think the D is our most pressing concern?
The offense definitely needs to get something going on, but as top priority, I would add someone at outside back or central back.
What do you think of team USA's chances in South Africa?
I think they looked really good in qualifying, but the injuries have hurt them. They'll need to get the guys they have to come together and they'll have to set the tone against England.
(Cover photo by Paul Rudderow. You can see a gallery of his Union-related photos here. Other photos by Brion Shreffler.)