The ball is round. The place is Philly.
Photo essays / USL - Philadelphia Union II
Posted by Rob Simmons on May 18, 2018 at 1:53 pm
Author: Rob Simmons
Rob enjoys taking pictures. Rob enjoys soccer. Rob enjoys taking pictures of soccer. Here are the pictures that Rob enjoys taking.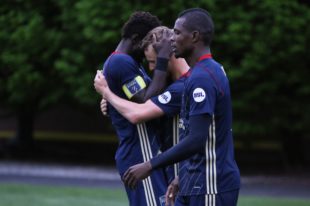 Comments
Section 114: Come Sunday we will be in an all-hands situation as the inte…
Andy Muenz: Let Bedoya play the midweek game to rotate the squad and put…
Andy Muenz: Cincinnati is a possible exception there (although who knows…
Andy Muenz: Mark McKenzie? :-) :-)…
James: While I agree there are many ways to tweak and tinker and fi…
Union highlights: Bedoya claims the Supporters' Shield for Union
Union captain Alejandro Bedoya speaks to fans as the Union claim the Supporters' Shield on Sunday.
Press conference: Jim Curtin
Union head coach Jim Curtin speaks with reporters after the Union's 2-0 victory over New England to claim the Supporters' Shield.