The ball is round. The place is Philly.
Photo essays / USL - Bethlehem Steel FC
Posted by Rob Simmons on May 18, 2018 at 1:53 pm
Author: Rob Simmons
Rob enjoys taking pictures. Rob enjoys soccer. Rob enjoys taking pictures of soccer. Here are the pictures that Rob enjoys taking.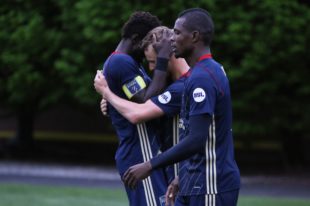 Comments
Odane nish: Need to show my talent…
scottymac: Nothing more knee jerk hyperbole than reviewing 74 minutes a…
Jaykoz3: My memory is fuzzy........though I believe Fontana was repla…
Union fan: I don't know why they do it that way, but they are consisten…
DaveR: I would like to believe we could have an MLS pro-rel system …
PSP Union postgame show
Mike Servedio, Steve Whisler, and Greg Orlandini break down the Union's 3-1 loss to Toronto.
Press conference - Philadelphia Union
Union head coach Jim Curtin talks with media after his club's 3-1 loss to Toronto.
Fan interviews
Union fans react to the team's 3-1 home loss on opening day.
Archives