The ball is round. The place is Philly.
Photo essays / USL - Philadelphia Union II
Posted by Rob Simmons on May 18, 2018 at 1:53 pm
Author: Rob Simmons
Rob enjoys taking pictures. Rob enjoys soccer. Rob enjoys taking pictures of soccer. Here are the pictures that Rob enjoys taking.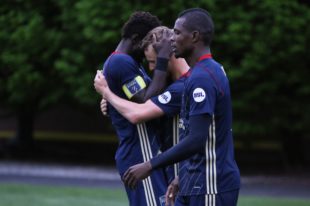 Comments
Tim Jones: Matt Custer does us a real service by compiling this list ev…
SoccerDad: Was watching the latest edition of the Men In Blazers where …
T.Coolguy: If it helps, think of it as that trade mostly paid for Cole …
Scott of Nazareth: I do guess I am a bit guilty of thinking of the draft in NFL…
Joel: agree here. I for one love the draft becoming a non factor i…
Union highlights: Bedoya claims the Supporters' Shield for Union
Union captain Alejandro Bedoya speaks to fans as the Union claim the Supporters' Shield on Sunday.
Press conference: Jim Curtin
Union head coach Jim Curtin speaks with reporters after the Union's 2-0 victory over New England to claim the Supporters' Shield.